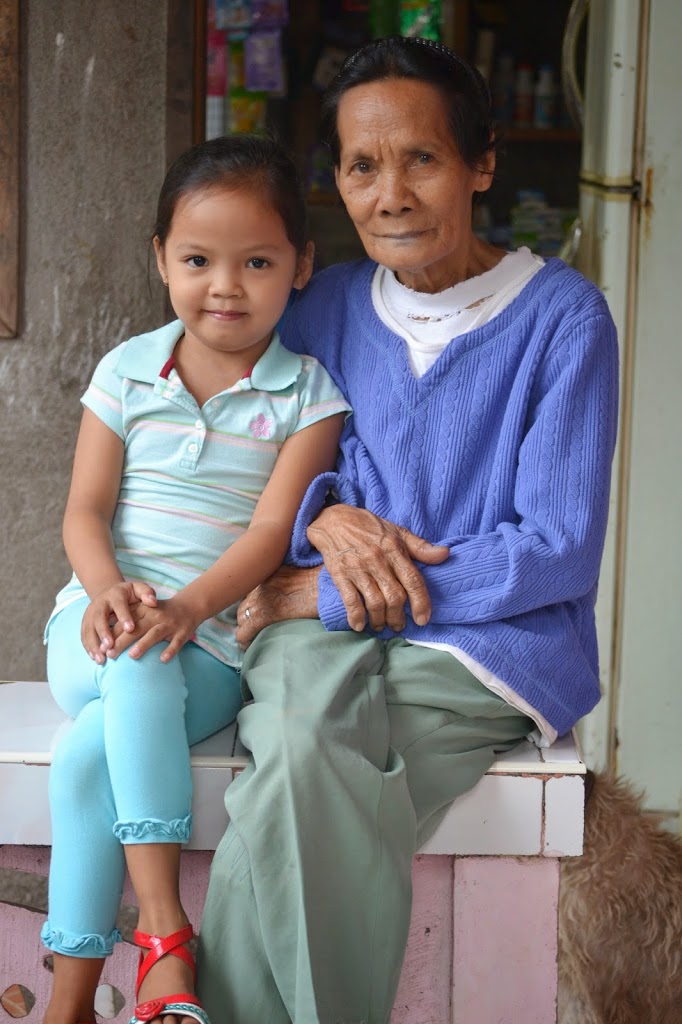 Grandma and my niece Stacy
My Grandma is an epitome of womanhood and strength to me.  Our younger years were well spent with her because our house is situated less than 10 steps away from their house, making her presence more significant in my younger years.
Living few steps away from the school where I spent my first six years as a student, she got angry when I'm late. My brother and I had our own assigned tasks to do before we can take our bath and prepare ourselves for school. Being the eldest, my mother assigned me to clean and sweep the yard every morning and my brother was tasked to sweep inside the house as its smaller. Since then, I hate waking up early. Every morning, I would expect to hear my grandmother's voice as my alarm clock. You will find her reciting her litany while removing our mosquito net and folding our beddings to forcibly open our eyes and move.
There were nights when I spent studying at my grandparents' dining table along with my siblings and cousins. I love it that way! The table was way huge and long. I felt the freedom of doing things without being bothered about the space. Every recognition day, she puts on my makeup when our class has a presentation on stage. She sewed my clothes and of course watched us perform. On Sundays, I accompany her to the market and I so love it even if sometimes, we will walk home with her sister from the town. It excites me knowing that she will buy me the PHP 1.00 royal icing of different colors, it's heaven whenever I felt it melting in my mouth. When I cannot accompany her, I always wait for her to come home because I know she has bread with her.
At my grandmother's side, I had found comfort apart from my mother's. My cousins were used to sleep at my grandparents on weekends and they as well invited me. I got so excited with the thought because it's going to be fun, but when everyone is asleep, I cannot bring myself to sleep. I always find a way to go out from grandma's house and sit outside our house.  I cannot afford to knock at my parents' door because it's already late.  I was left crying outside, thanks heavens, my uncle arrived and knock the door for me. This happens many times until I got used sleeping beside  grandma and  I don't bother the nights any longer.
When I started high school, my parents renovated our house and made a room for me and my siblings. Here comes again the dilemma of not being able to sleep. I could not leave my grandparents. Just the thought of letting them sleep by themselves worries me. I feel the pain of detaching my nights away from them.  I keep extending and extending my transfer to my new room until I was left without a choice. Since my  school was way far from our house, I needed to wake up way earlier, but will not be able to do my morning task. In my place was grandma. There were mornings when she was the one who will cook for my breakfast, clean the yard  and wake me up by knocking the jalousie window of my room from the outside. I can take my bath directly because she had done the work for me. At the same time, she will pack my lunchbox and after I get dressed, she fixes my school neck tie. From her, I learned that cocoa or coffee mixed with rice is tasty to eat when you arrive home from school.
She is a proactive grandma. I wish I had her physical strength. She cleans their house, cook their meals, do their laundry, feed the animals, plant peanuts, bananas, sweet potatoes, cassava and corn on their farm.  One thing that I enjoyed the most is the harvest time. When the school year is about to open, she always sees to it that me and my cousins are the one who will do the coconut harvest so that we can buy our stuff for school. My mother didn't allow me to do it because of the skin allergies that I get but I always insist because of the fun that I get and the freedom of buying the notebooks, pens and pencils that I fancy. While gathering all the coconuts, we need the help of a carabao and a wagon. My superwoman Grandma drove the wagon while we are putting all the coconuts inside the wagon. She leads us all the way until selling the dried coconuts to the merchant in the town.
Everyone is the village knows her. She seemed tough, very straightforward, not the typical soft-spoken grand mother, painful on the ears, but since then that I started working away from home, missing comes in. Every time I go home for vacation, I always brought her textiles. She loves designing and sewing her own dress. She's very happy every time me and my brother is home, but I always feel the pain every time I go back and sees her eyes swimming with tears. By the way, she is the No. 1 fan of my brother, Makoi. She always called him "gwapo" (handsome).
At the age of 81, she's still very strong. She still manages to do her laundry, cook meals and even tend her goats. She rarely gets sick until one fine Friday after I finished the church service, I received a call from my sister. I heard everyone crying and I know already what that means and yet I am not ready to hear that. I told God, it's too early, it's not yet time (but who am I to say?). My whole world stops, the idea didn't sink in and I could hardly believe.  The only thing that is lingering in my mind while I'm trying to calm down everyone is to go home at any cost.  My passport is less than 6 months valid, that itself would hinder me from travelling. The Philippine Consulate in Dubai is not allowing extensions anymore, not unless it's an emergency. Nevertheless, along with all the worries,  I asked permission from our Managing Director and by faith booked my ticket. I went to the Consulate on the next working day and was able to get all the required in an hour, which is a strange thing. I thought of having my  whole day spent in there knowing the Consulate's system, but God is gracious and I was able to get an extension. After all, things are set in a very minimal time frame and  I flew home.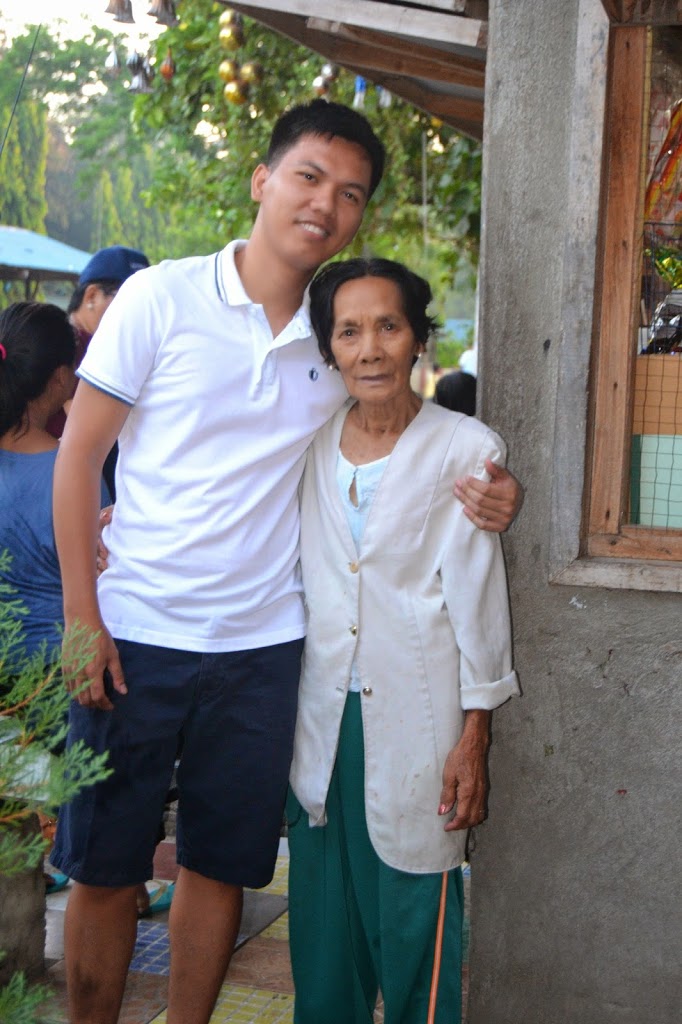 Grandma and my brother Makoi
Reaching home, it took time for me to find the strength of bringing myself off the van. My father parked at the very doorstep of my grandparent's house, I hold myself while I watch the light coming from the candles, the flowers, the silent people around, and of course, the white coffin. Nobody knows I'm coming home except for my parents, siblings and niece, but my uncle noticed that I was in the van. He came near and told me to relax and accept it.  I didn't say anything, I just hugged him and I wept. He walked with me to the coffin and I called grandma with the same excited tone every time I'm home but I didn't see her smile anymore. I didn't see her excitement seeing me. I just hear silence and right there, acceptance stood up. She is not with us any longer. I just shed tears in my grief and  lament. My uncle sits with me in front of the coffin when he started to tell me the story of what had happened.
All of us are being embraced with the comforting sympathy of the close people around. Many stood with us in prayers. They warm our hearts and their  prayers ease the pain. God restored my peace and the whole family's knowing that even if she is not with us anymore, she didn't experience staying at the hospital bed with all the wires. Though her death is so sudden and not one of  us is ready for it, the thought that she didn't experience so much pain because of certain sickness is more than enough to be thankful for. She will always be a part of me, no way to detach it. The only thing that I regretted not getting from her is cooking. Her paksiw (fish with vinegar) is always the best! There are times when I feel the pain of losing her, but I'm being comforted with the idea that she is now with our Creator and has gone home.
I would like to thank everyone who had extended their help and share their time by visiting us in our sorrow. More importantly to those who had allocated their precious time in praying for us. On the tribute night for grandma, I had understood God and His timing. That very night, many had accepted Jesus  Christ as their Lord and Savior and that included my family. On our lowest point, He again showed His sovereignty by answering me in my prayer. He used people as His channel of love and conveyed His message of salvation. Indeed, time is in His hands and in every season of our lives, He is omnipresent. I am always assured that whatever comes my way,  His purpose shall always prevail.
To my dearest Lola, you were, are and will always be the best Lola in my world. I love you from here to there!
Ecclesiastes 3

: 1-8
There is a time for everything,
 and a season for every activity under the heavens:
a time to be born and a time to die,
a time to plant and a time to uproot,
a time to kill and a time to heal,
a time to tear down and a time to build,
a time to weep and a time to laugh,
a time to mourn and a time to dance,
a time to scatter stones and a time to gather them,
a time to embrace and a time to refrain from embracing,
a time to search and a time to give up,
a time to keep and a time to throw away,
a time to tear and a time to mend,
a time to be silent and a time to speak,
a time to love and a time to hate,
a time for war and a time for peace.