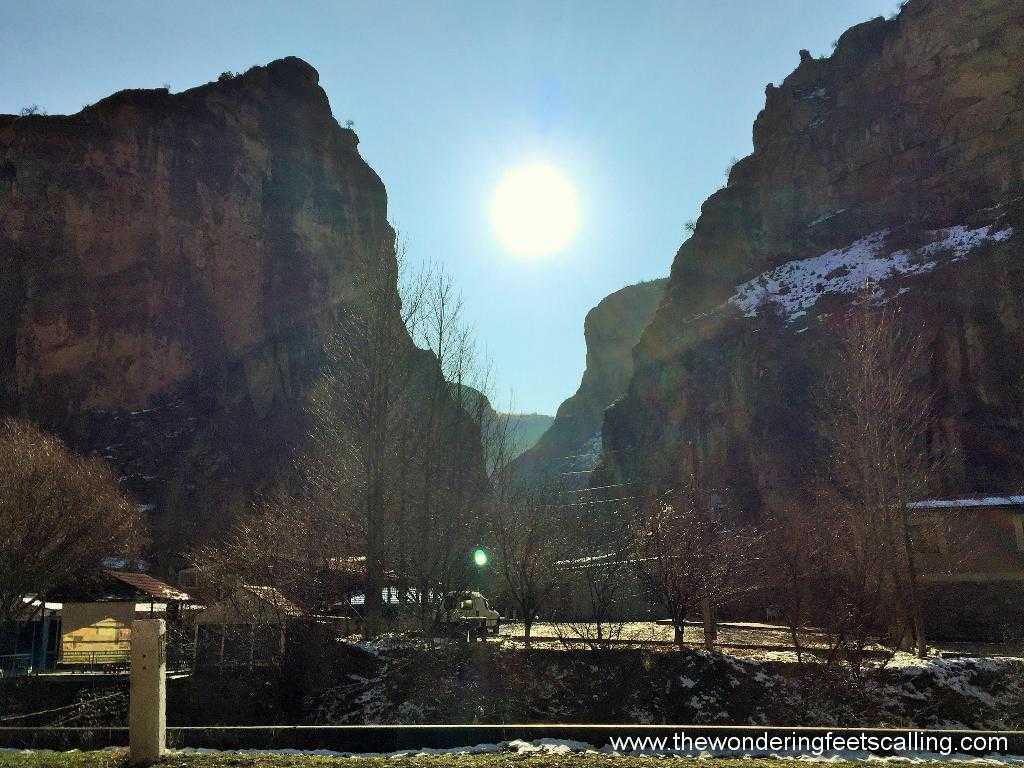 Our four day stay only permits a glimpse and definitely didn't allow us to see most of Armenia. Nonetheless, it is remarkable because that was my first snow ever.  Yerevan, the capital is a 3 hour plane ride from the UAE. We landed at Zvartnots International Airport and felt like we set ourselves out for a free and open air conditioner as we walked to the parking. The ride to our hostel was more or less 30 minutes. After we checked in, we looked for a bank and a restaurant to satisfy our hunger. Food is not something that I can recommend though I saw Arabic, Indian, and Japanese restaurants around. I never get the chance to taste their local food because it is so difficult to communicate, that would mean I rarely meet someone who is conversant in English.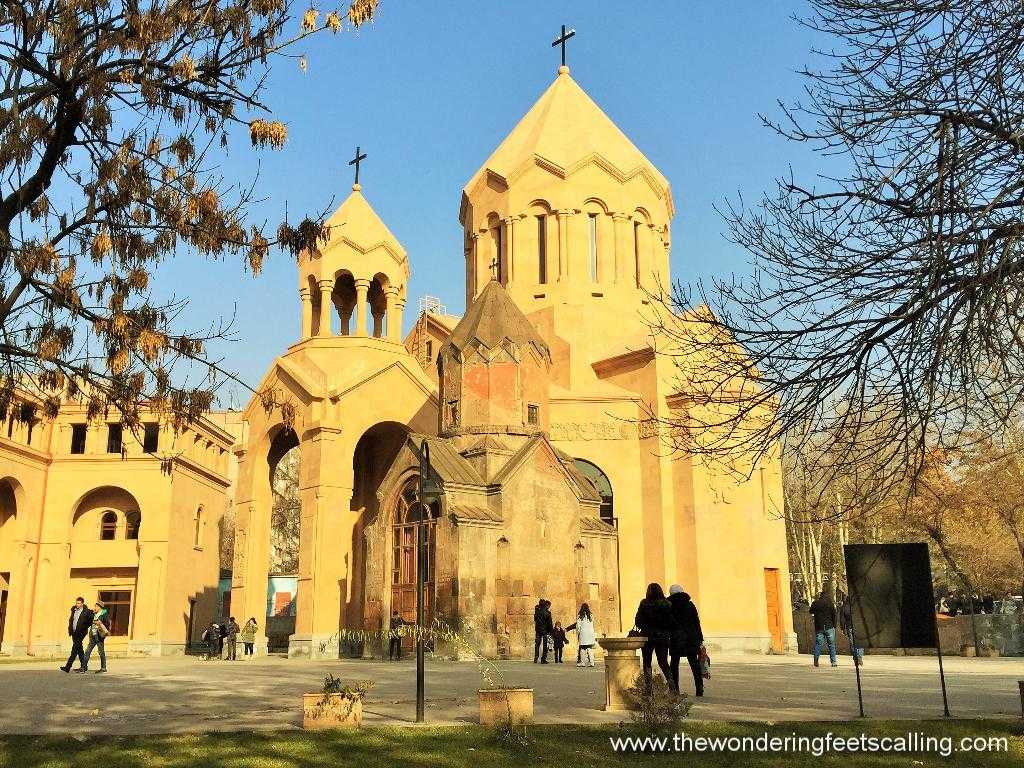 The rest of our first day was spent walking around the city and we came across the St. Anna Church though were not able to check inside because it was closed.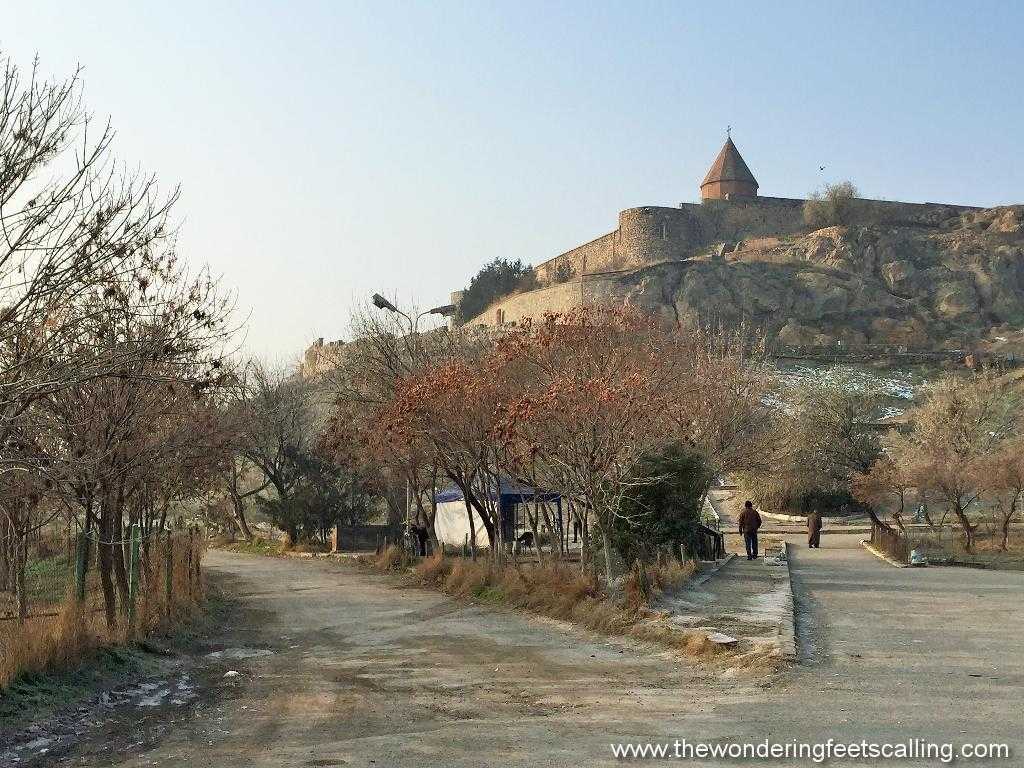 Khor Virap  which means "Deep Pit" is the monastery located at the foot of Mt. Ararat, the place where Noah's ark rested. When you get here, you can see the snow capped Mt. Ararat  but not so visible during our visit because of the thick fog. Armenian is one of the first languages into which the bible was translated while Armenia is the first Christian Nation around the world. In 642, a chapel was built on this site in reverence for Saint Gregory who was imprisoned here for 14 years, a religious leader who converted the people from paganism to Christianity. Up to these days,  the Monastery is a pilgrimage site where many Christians still pay a visit.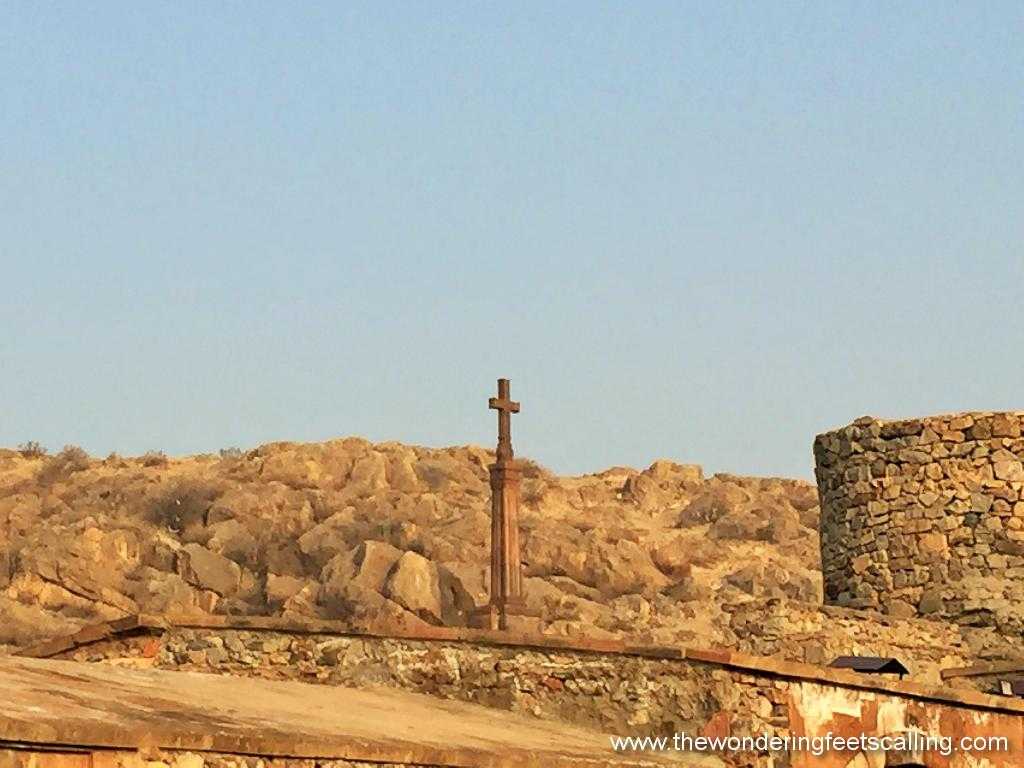 The monastery is located about 100 meters away from Armenia-Turkey border which is only fenced with a barbed wire.  Opposite to the monastery is a cemetery.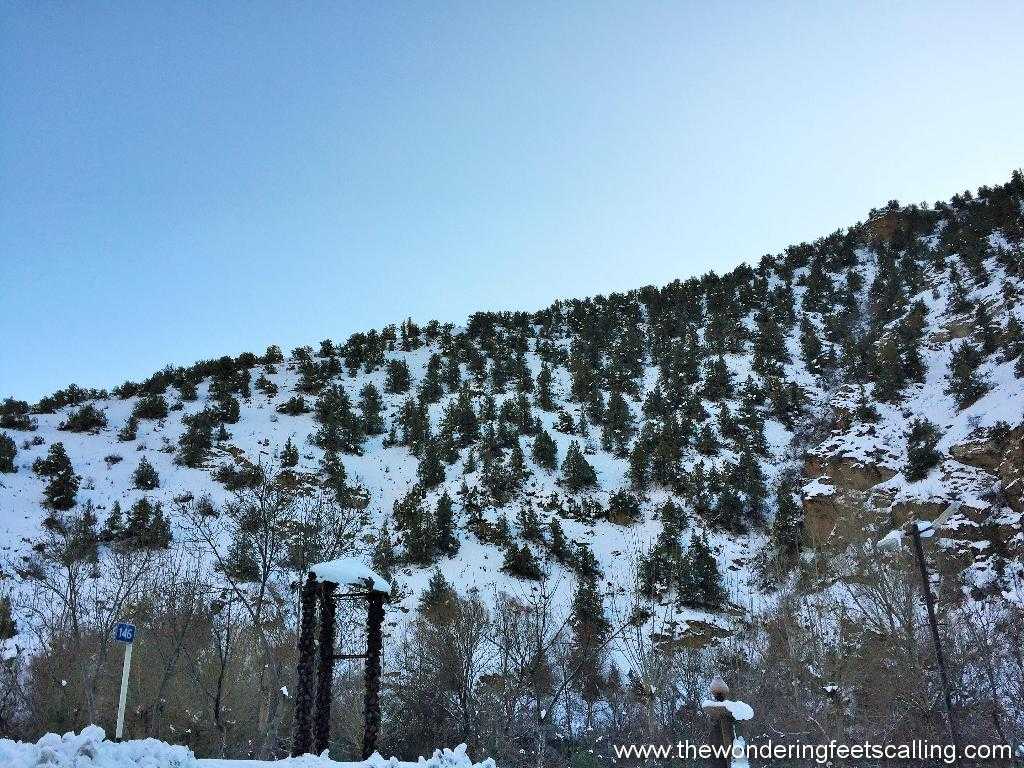 Labelled as one of the most scenic road trip that I had, these live Christmas trees are truly a delight.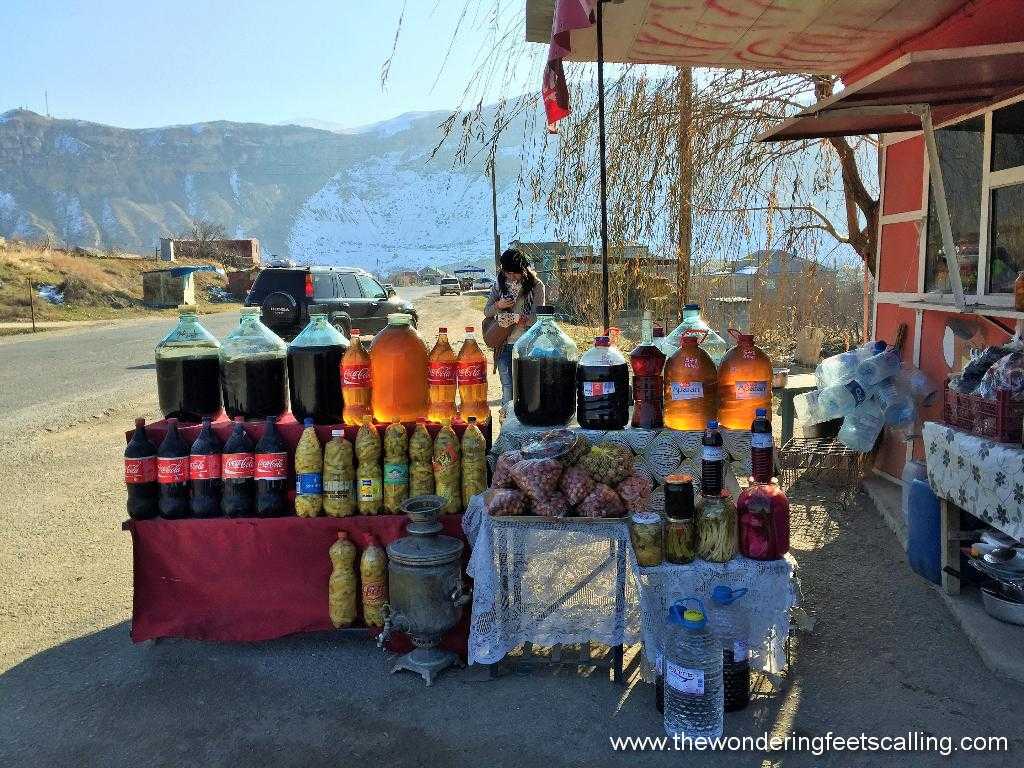 Not to forget, Armenia is famous for brandy and wine. Cognac is even available in this street display and yes, they are all home made and can be purchased anytime. We stopped in this shop for a Turkish coffee break as the temperature is getting lower and lower as we maneuver along numerous hills and amazing hard rock formations.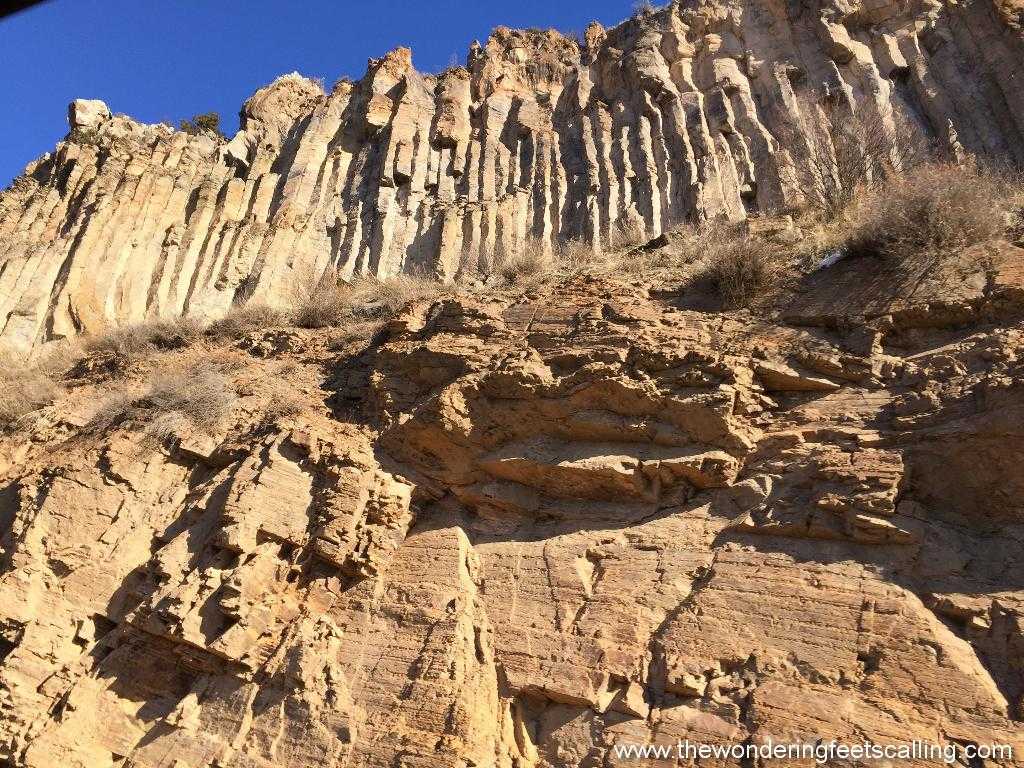 This very narrow street bordered by enormous rocks on every side offers a different kind of thrill. I was astonished as we continue to trail in great admiration.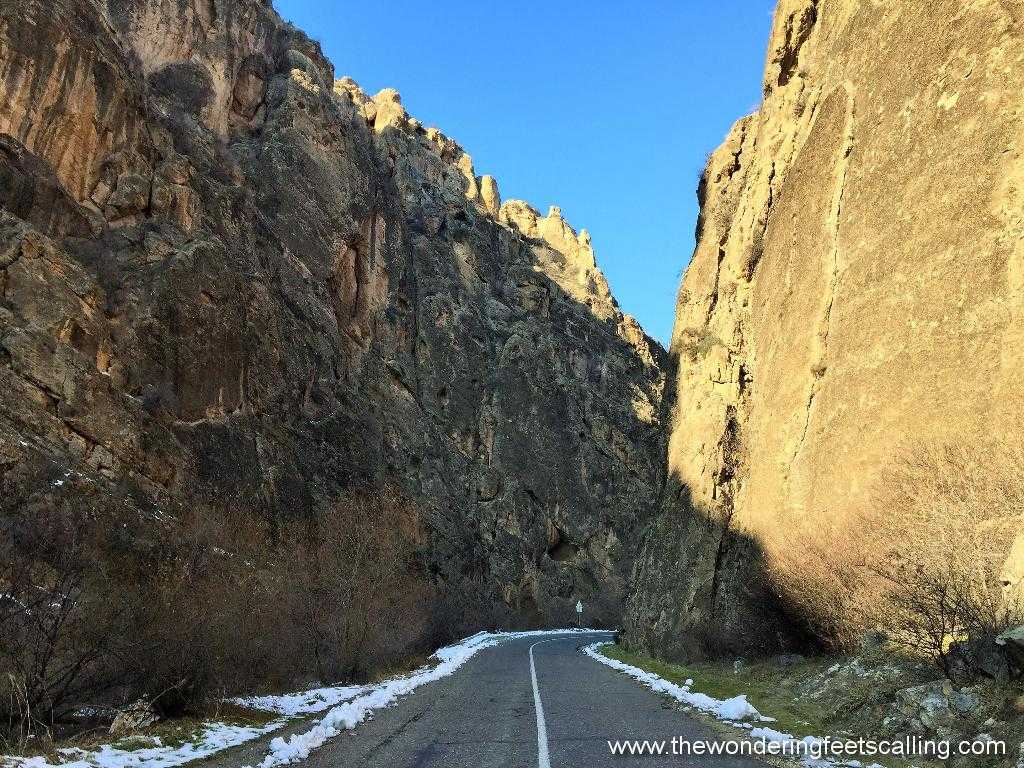 Noravank from a far filled us with intense excitement. Every place where our eyes were set gradually raises our level of bliss.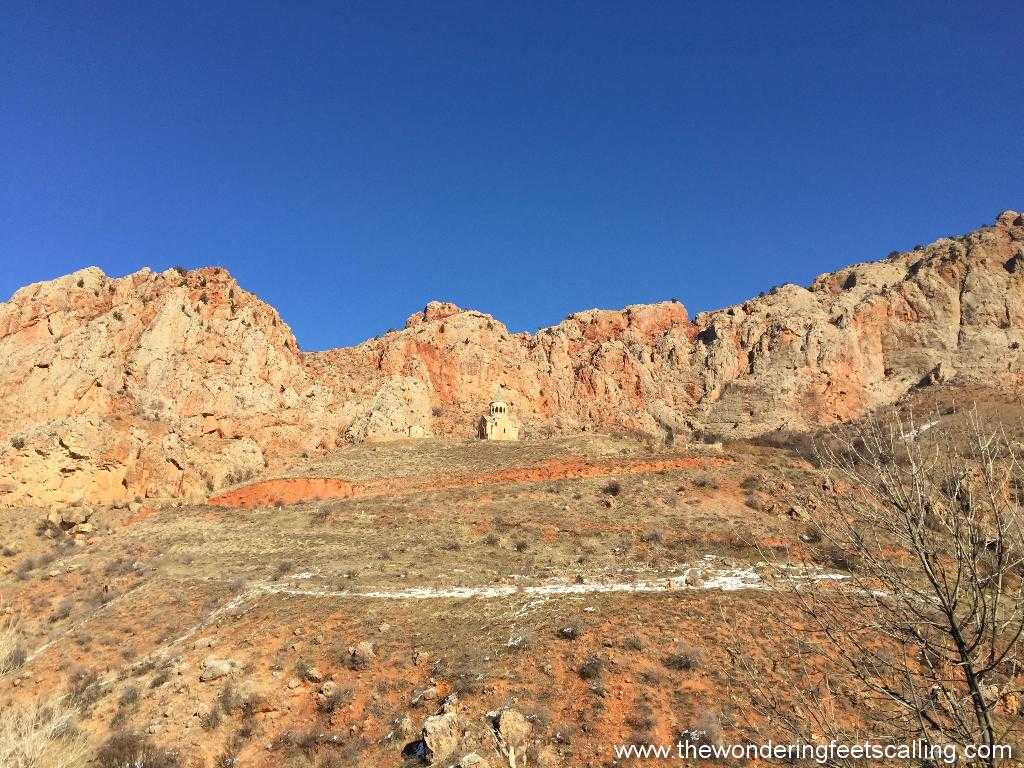 Noravank is a 13th century monastery located along Amaghu Valley. According to legend, this monastery housed a piece of the true cross, stained with the blood of Jesus.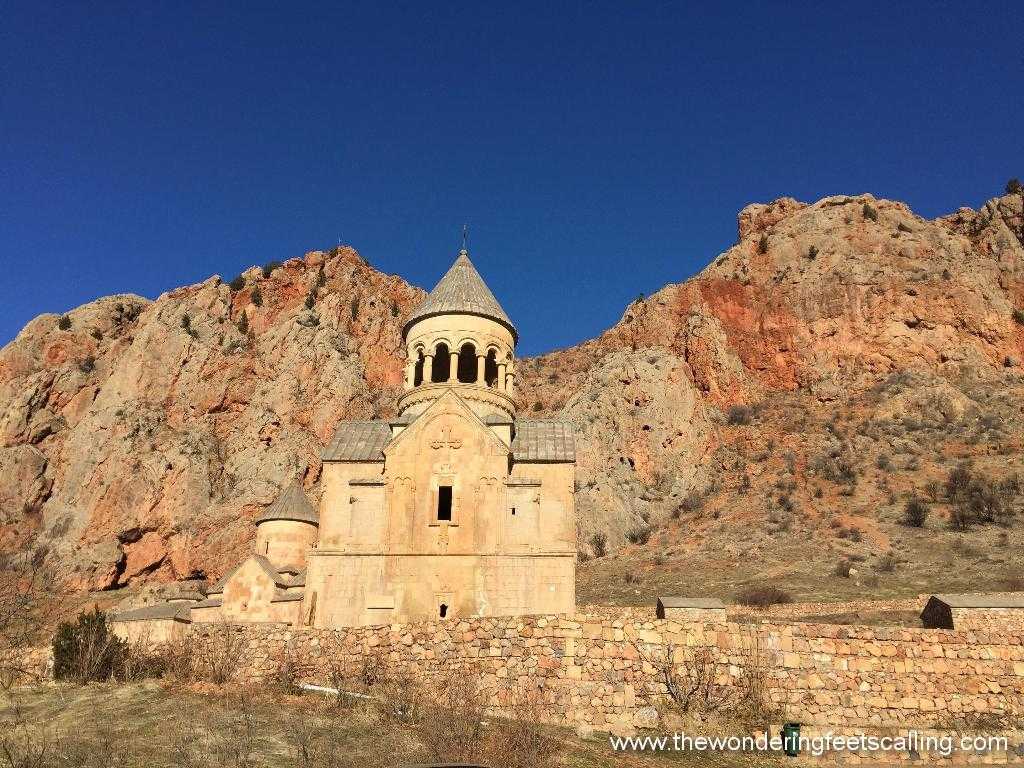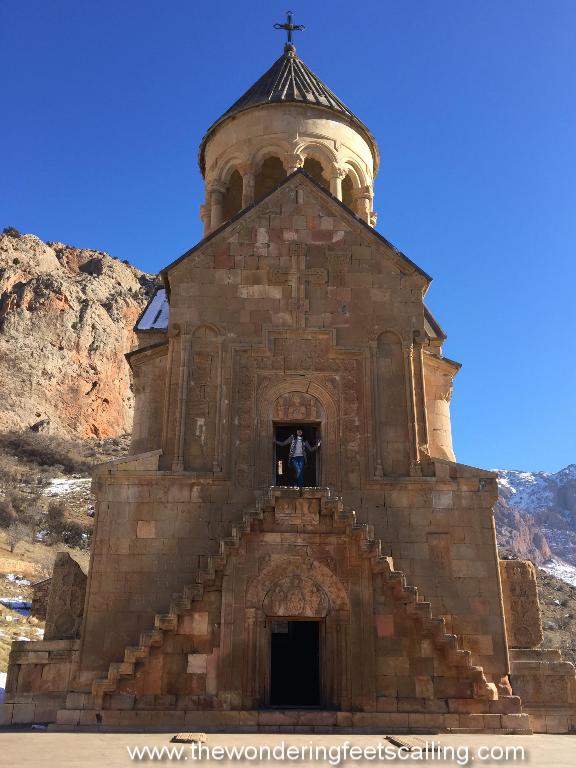 The ground level is the burial place of Prince Burtel and his family, the financier of the church' construction. Access to the second floor which is the prayer hall is through the very narrow cantilever stairs. There is nothing to hold onto except the wall. Everyone is permitted to climb up, but at one's own risk.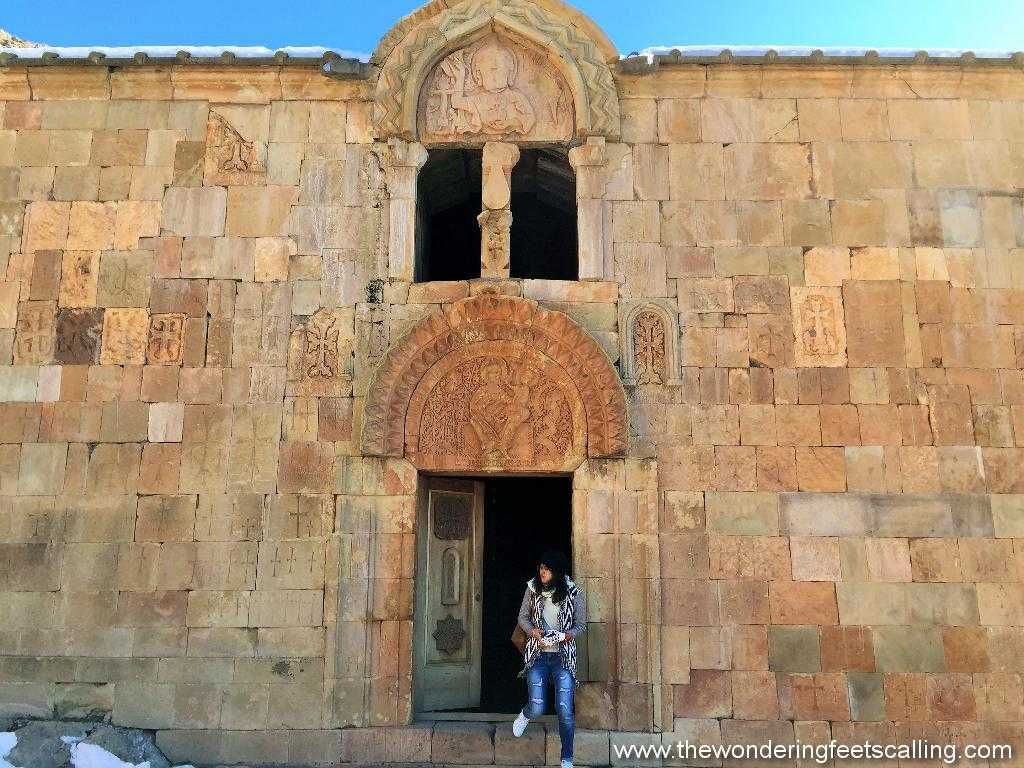 As we continue our journey, our driver stopped in the middle of the road and remembered his younger years. We were all alone in that snowy land and we ended up fighting with snowballs. We are kids at heart and no one cares, we simply had our fun!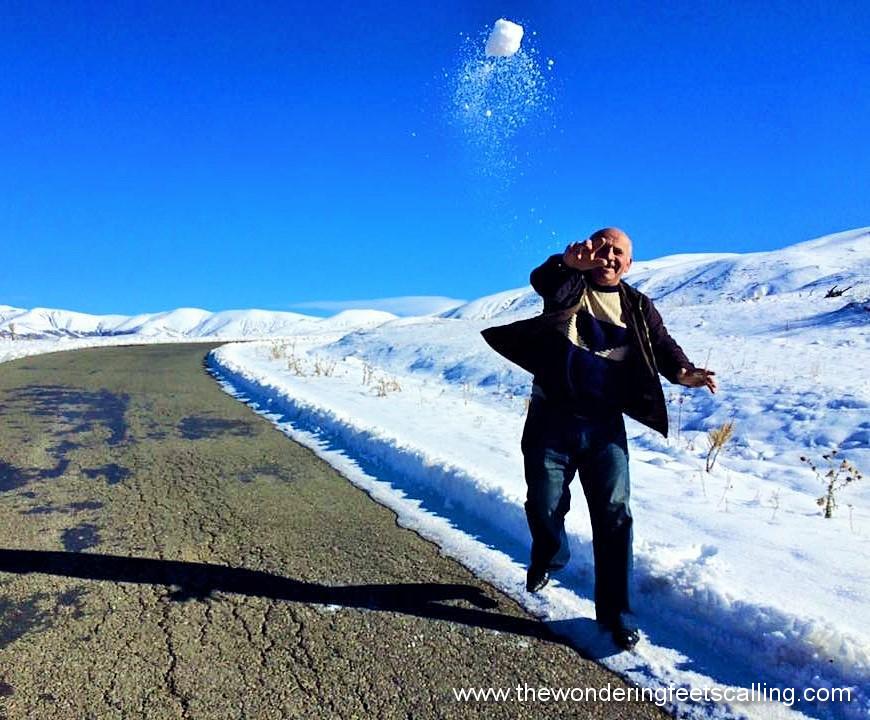 As we were on our way home, a herd of sheep occupied the street. There were more than a hundred of them and more than five shepherds. They were so amusing that it made me think like they are the best sheep and the best shape. All of them were so fat that most were having a hard time walking.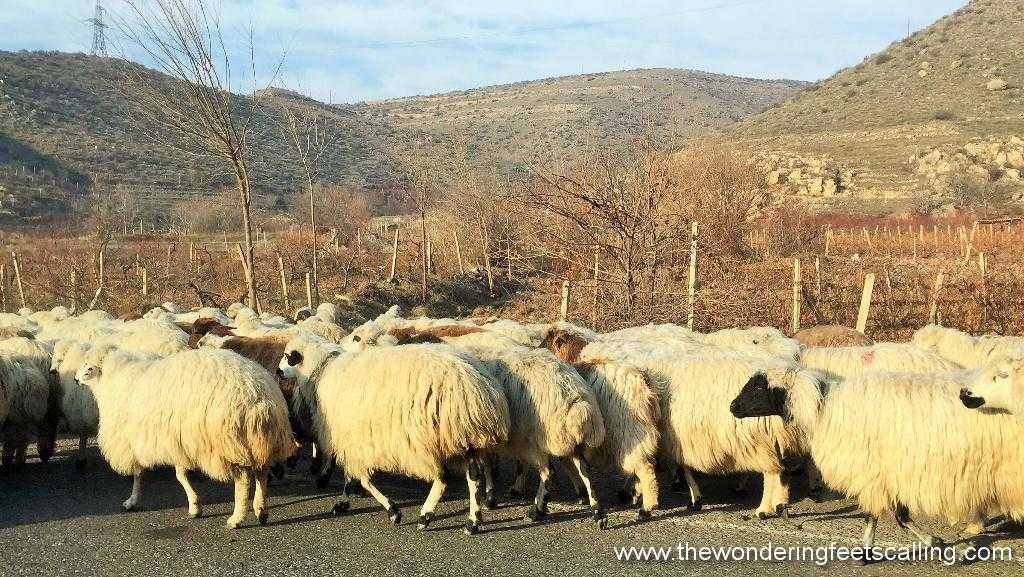 Fruits were also displayed by the farmers outside their houses. Armenians don't buy them in pieces or kilograms. They were buying the fruits by containers and at a very cheap price.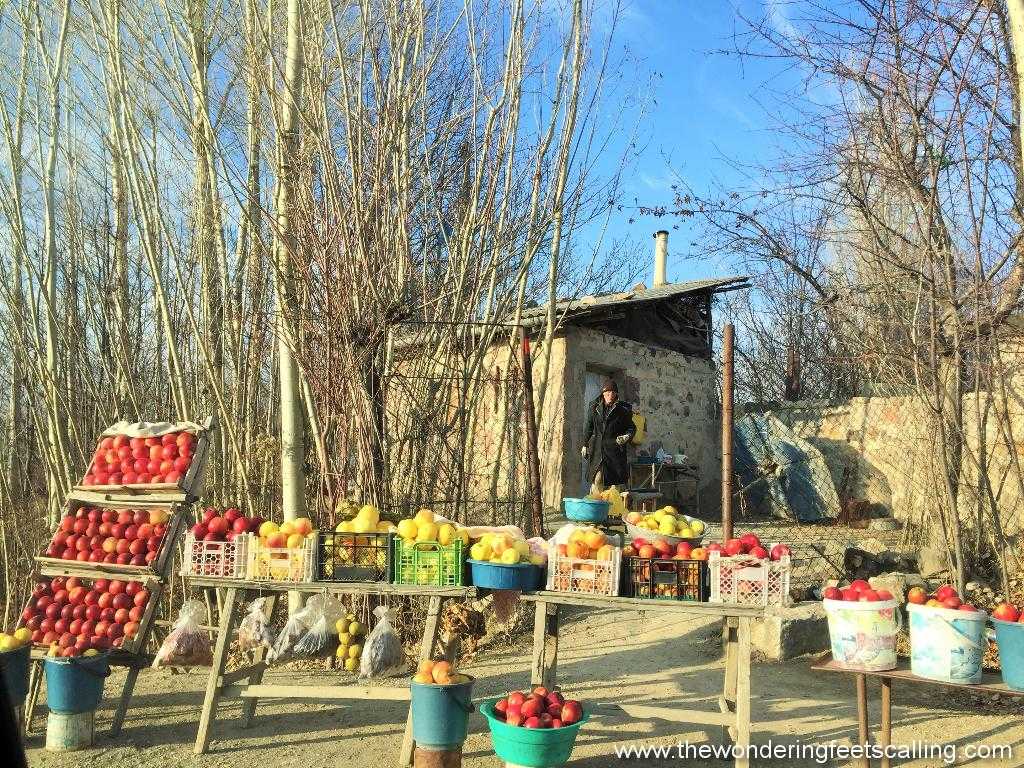 This apple is so fresh and natural. It didn't have wax to make it so shiny and bright.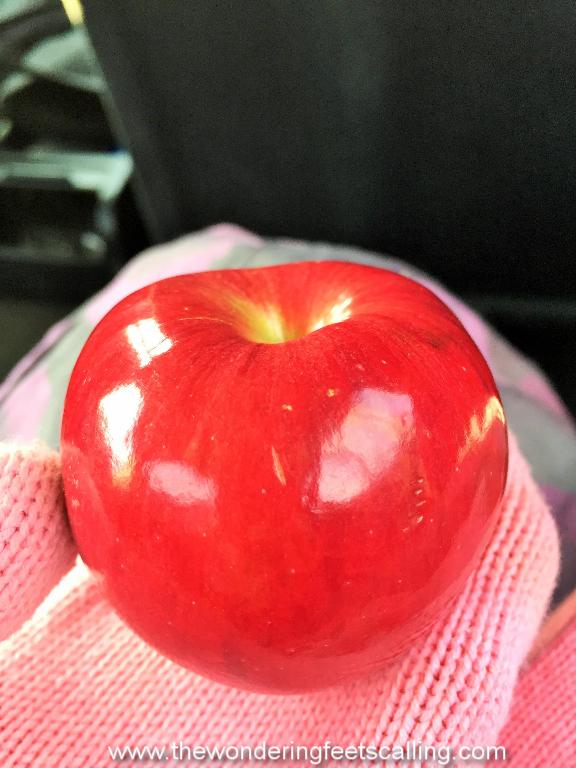 Our glimpse of the historical Armenia allows us to see its beauty and wonders. The simplicity of life and slow paced motions depicts a relaxing and stress free life. Armenia has the gift of nature that makes its visitors marvel. Allow me to say as their slogan says, "Visit Armenia, It is Beautiful!"