Egyptian hospitality is widely known even in the times of the pharaohs. Up to this very day, this is still clearly reflected among Egyptians. They are serious about it and they take pride in doing it.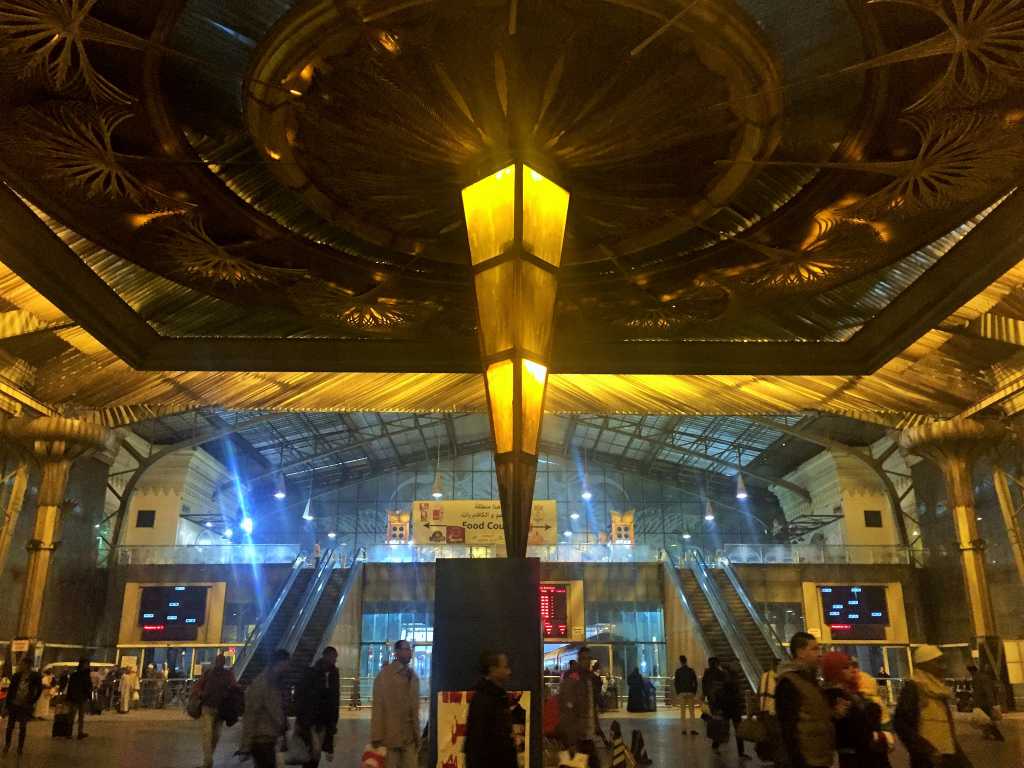 A cold morning welcomed me when I arrived in Cairo from Luxor. It was a very fine day and I was conversing with a Spanish traveler who became my friend. We were both amazed with the captivating interior of the train station until I found myself in complete amazement when I went out of the station. I was trying to communicate with cab drivers and realized none of them speaks English, though I saw their willingness to bring me to my destination. The streets were already congested even at 06:00 in the morning. From the serenity of Sharm el Sheik to the bustle of the metropolis, I have given myself time to adjust and embrace Cairo. I was not able to get a cab who could bring me to my hotel despite showing them the location from my phone. To my surprise, a taxi stopped in front of me and the driver offered to bring me to my hotel with no additional cost as my friend who was on his way to the airport paid the bill, such a relief!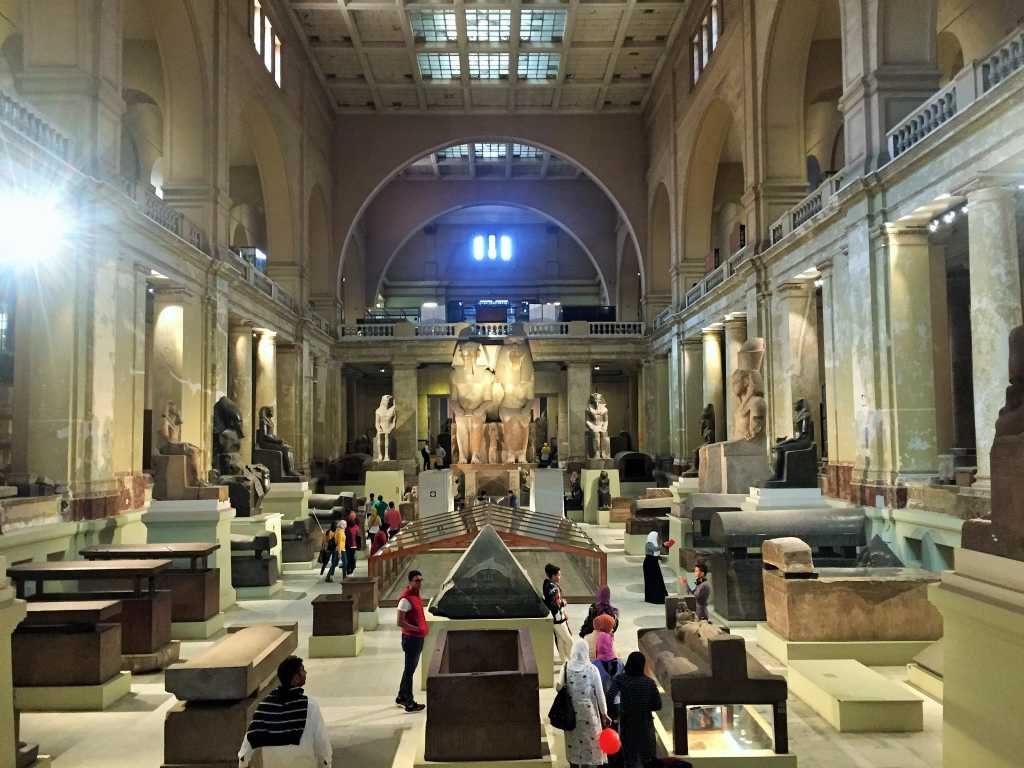 My journey started at  The Egyptian Museum, where colossal statues which were made of granite and limestone surprised me when I entered. Of course, that is aside from the friendly female security which I had a short chit chat with. She guided me with directions because I was overwhelmed with gigantic figures around me and I was bemused on where to start.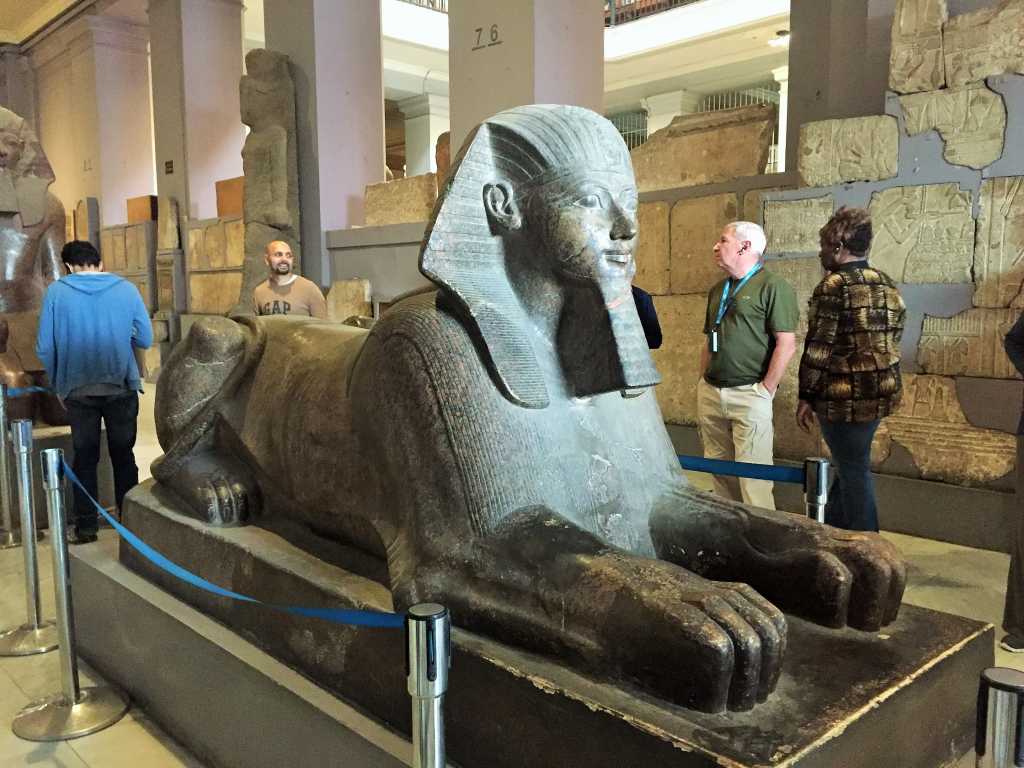 More to the carvings, you will also see different kinds of sarcophagus, coffins and mummy cases of more than 7,000 in total.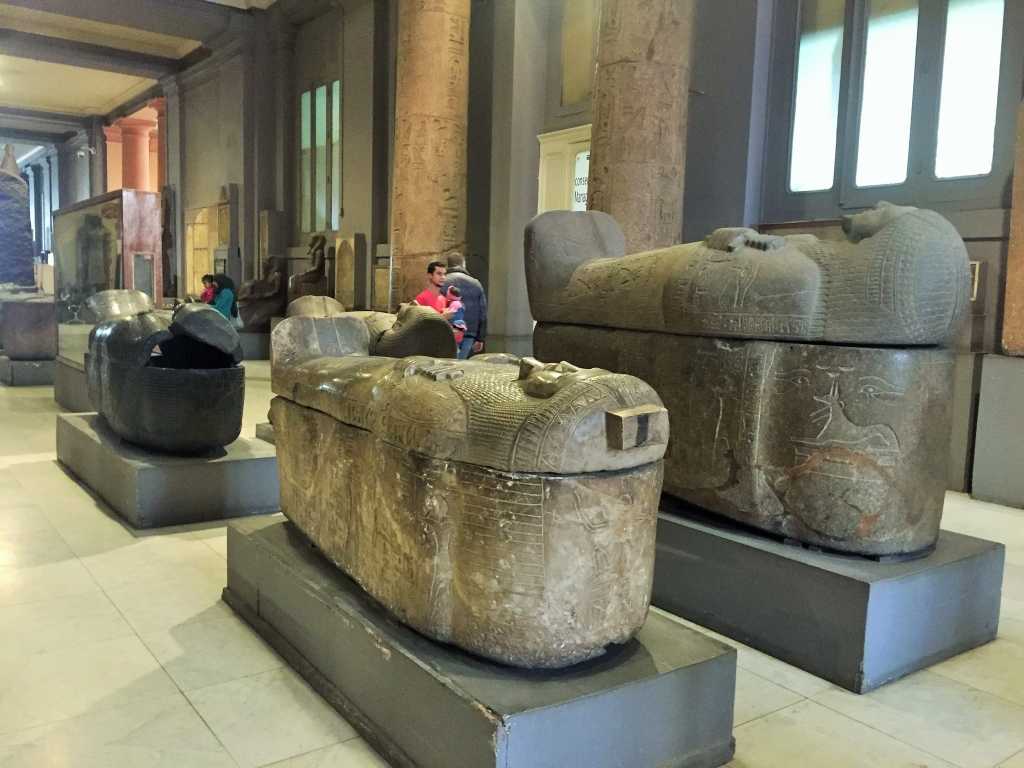 They vary according to size, royalty, color, design and adornment. Mostly, it is made of limestone, granite, wood, alabaster and precious metals with inscriptions or images which were depicted  from their book of life.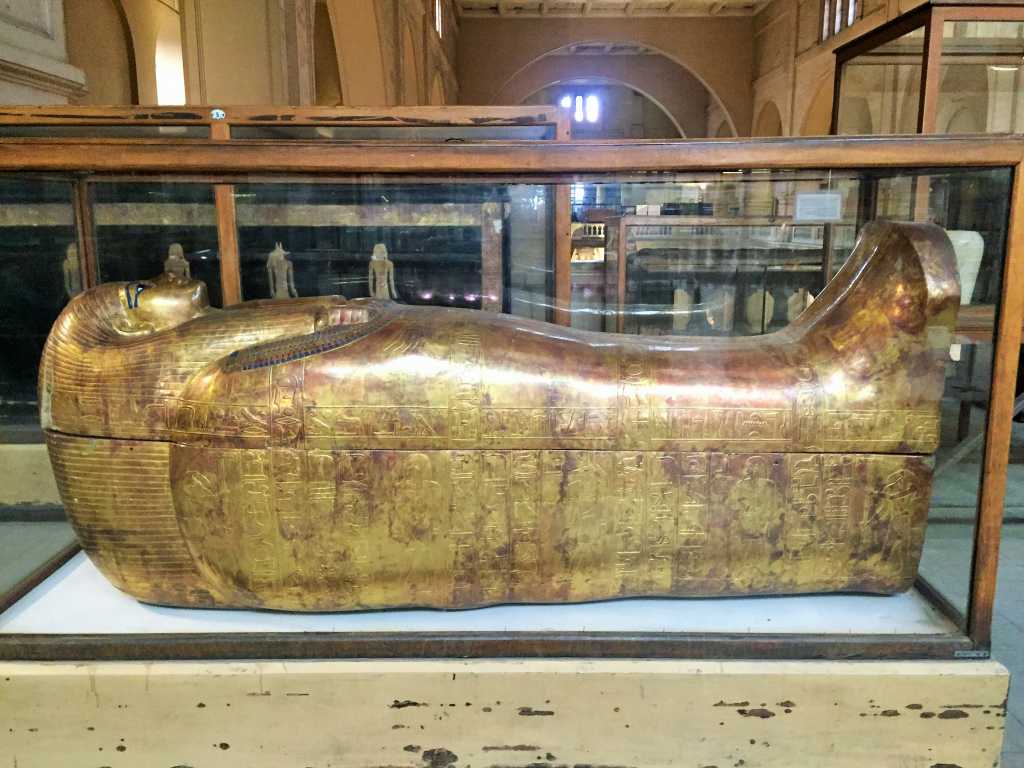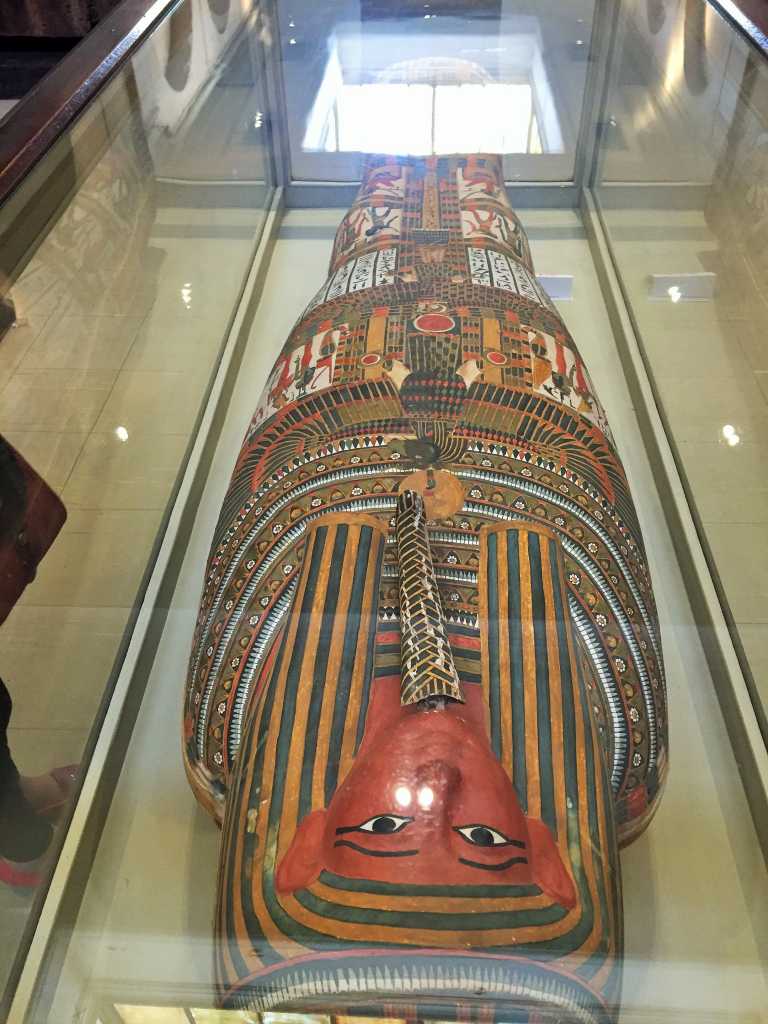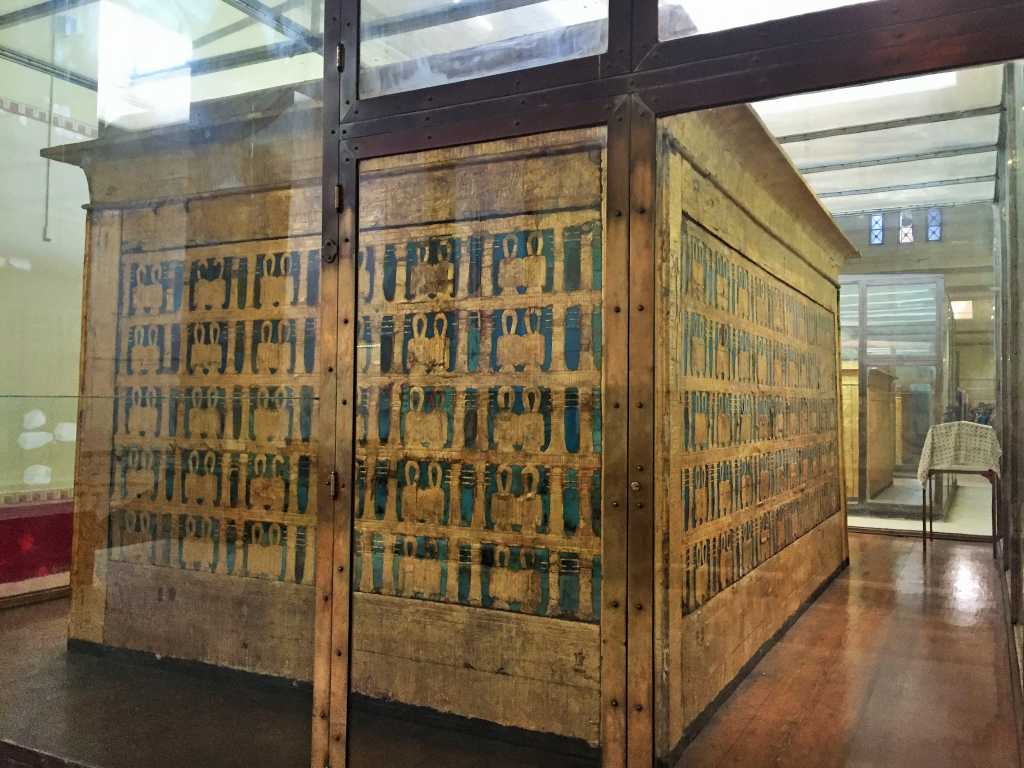 The Royal Mummy Room, which took an additional 150 LE aside from the main entrance fee of 240LE and 50LE for photography, is not a place that you could miss if you really want to see a real mummy. Ramses and Hatshepsut were both in that room. Well, it does not look pleasant at all but since you are in Egypt, there's no reason for you to skip that room, unless you cannot bear that sight.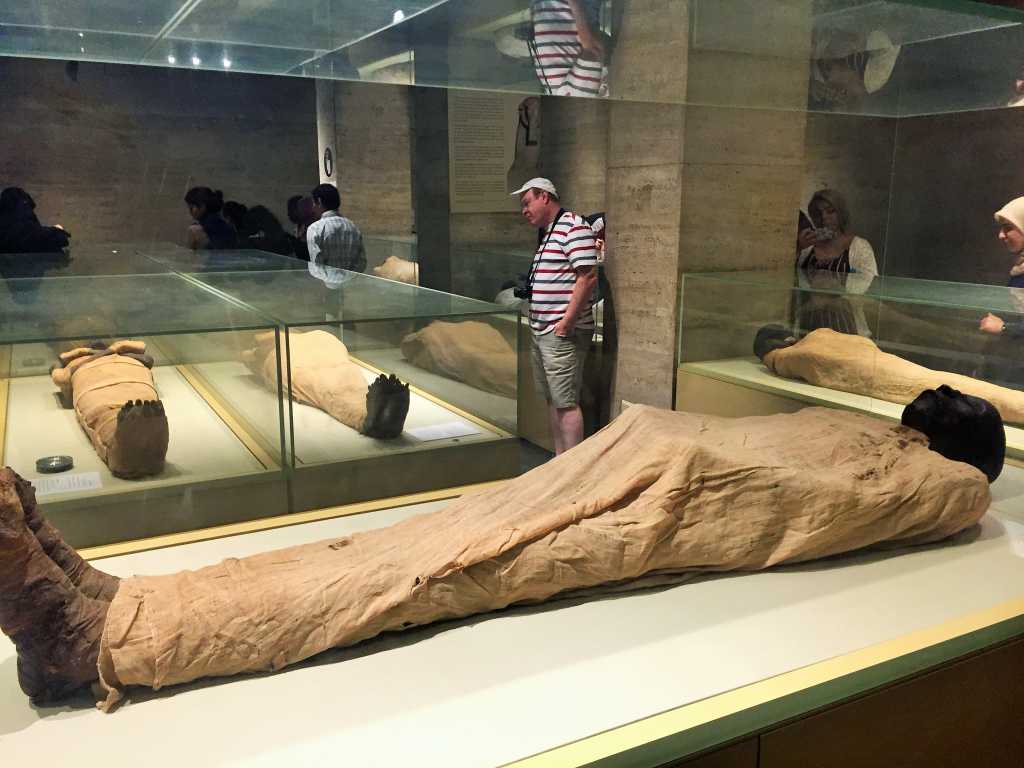 You can also see steps in mummification and images of funeral procession where everyone who participated brought something precious and important for the dead's life after death. Even in their burial chamber, you will find a treasury box where most of what is inside is made of pure gold.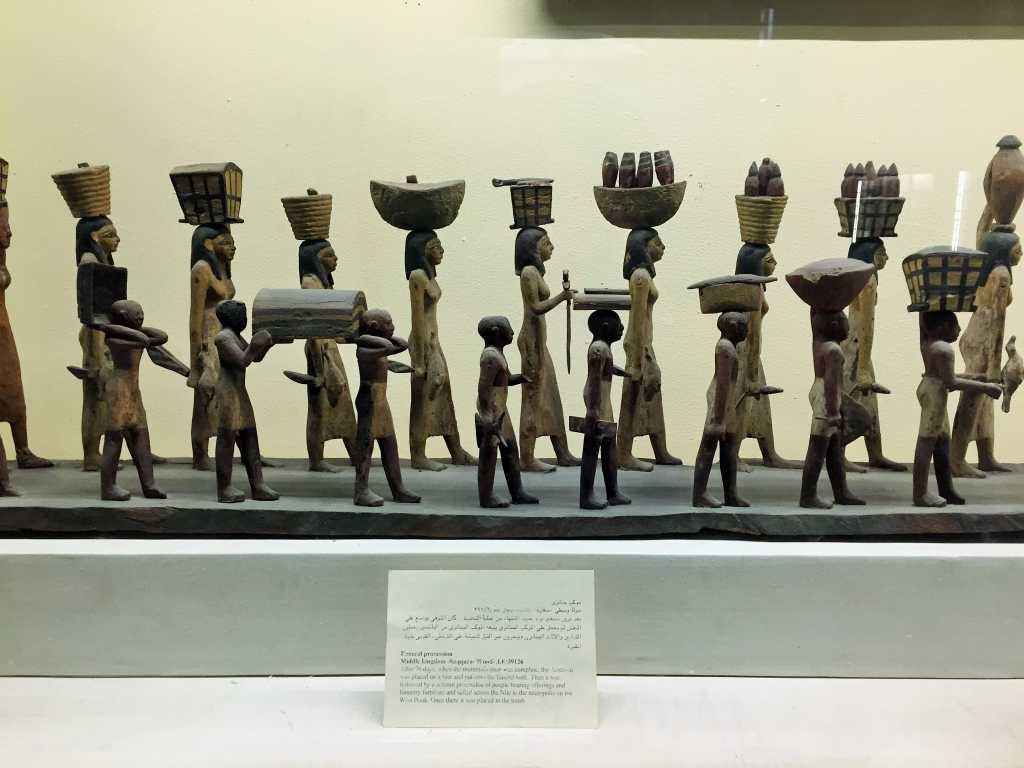 On my second day, I hopped on a bus to Giza for 2 LE and visited The Pyramids.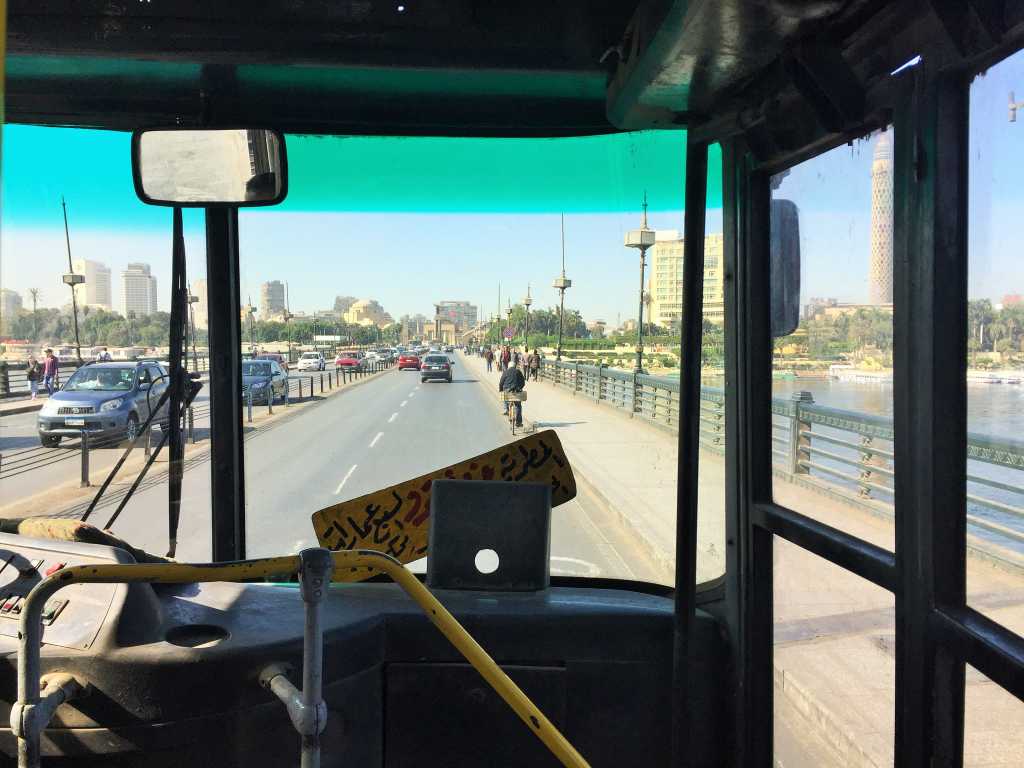 Like any other plan, this had failed. I never reached the pyramid by bus most probably because of the language barrier and I was not understood and I cannot communicate with the locals. The bus reached its final stop in Giza and I am the only person left. I told the driver  "haram" which means pyramid and his gestures told me to wait. When the bus started its next round, the driver spoke to a lady instructing her to guide me to get the van to the pyramids.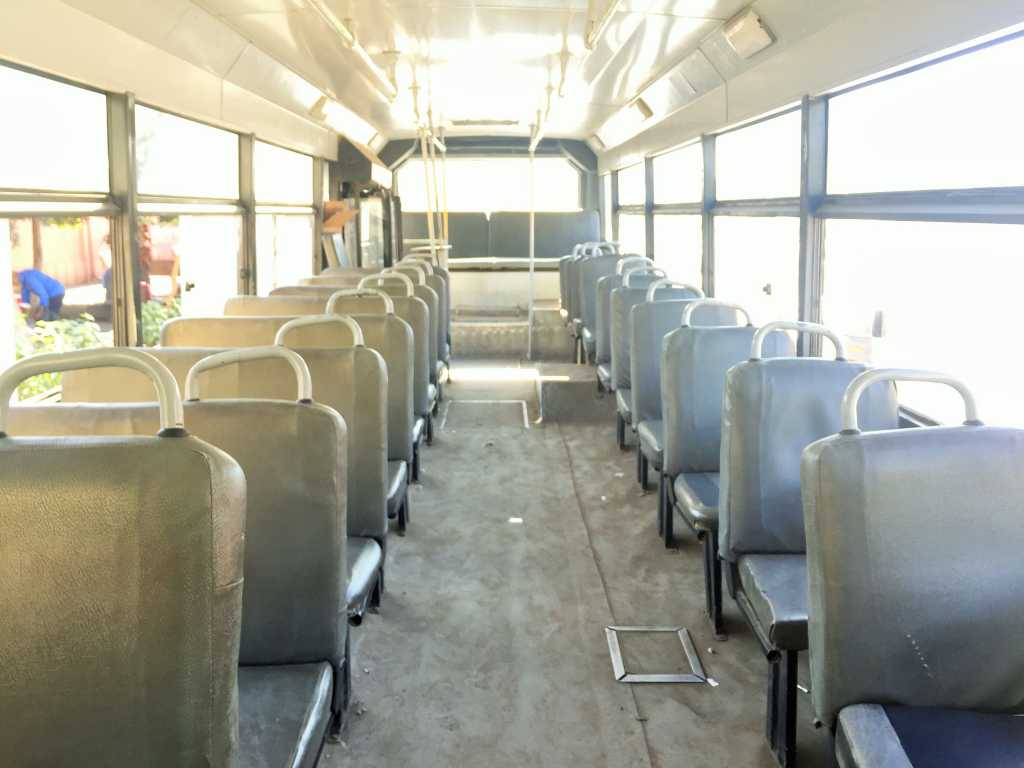 The lady with a child and I get off in the middle of the road and cross the other side of the street. The lady just hailed a minivan and in the middle of the road, I quickly hopped in after saying thanks to her and the van keeps moving. I gave my fare and the driver looked at me when I said that I wanted to go to the pyramids. Unfortunately, I get off as to the pyramid was not his way. Hopeless in the street of Giza, I hailed a taxi whose driver cannot also speak English. I only told him "haram" and "how much?" but he pointed the meter, of which I am okay and paid 30LE.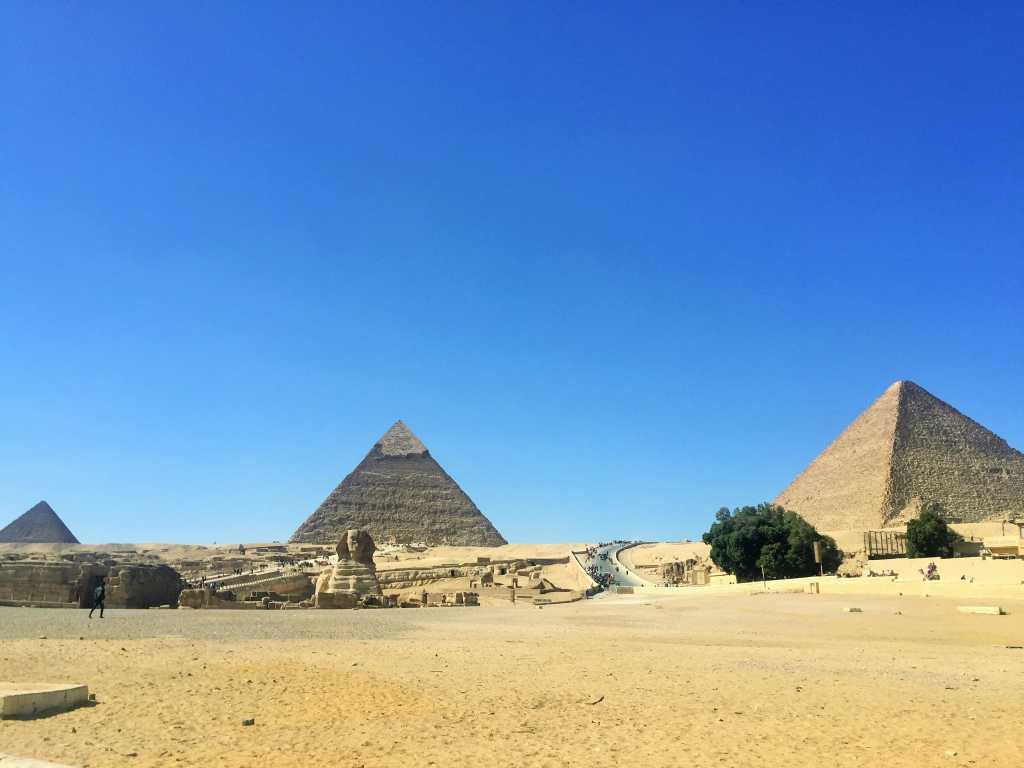 I paid the entrance fee of 120LE and started my pyramid journey with a horse and a carriage. Before you reached the entrance, a group of locals are gathered and offered horse or camel services. Many travelers had actually discouraged tourist not to use them, but in my case, I preferred that I took their service rather than opting to reach the 3 pyramids by foot which will exhaust me.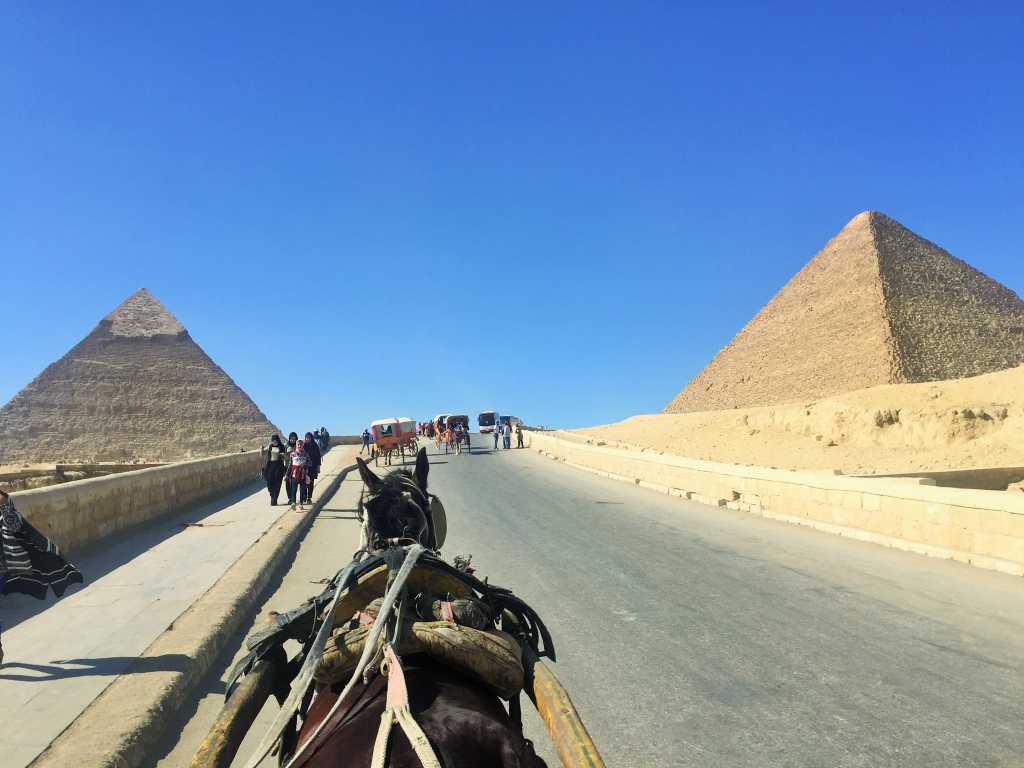 Seeing the oldest among the Seven Wonders of the Ancient World face to face is of course a privileged. The pyramids were built using more than 5 million blocks of man-made limestone, weighing 2.5 tons each. With its hidden wonder and form, one could not fathom its how's and why's up to these days.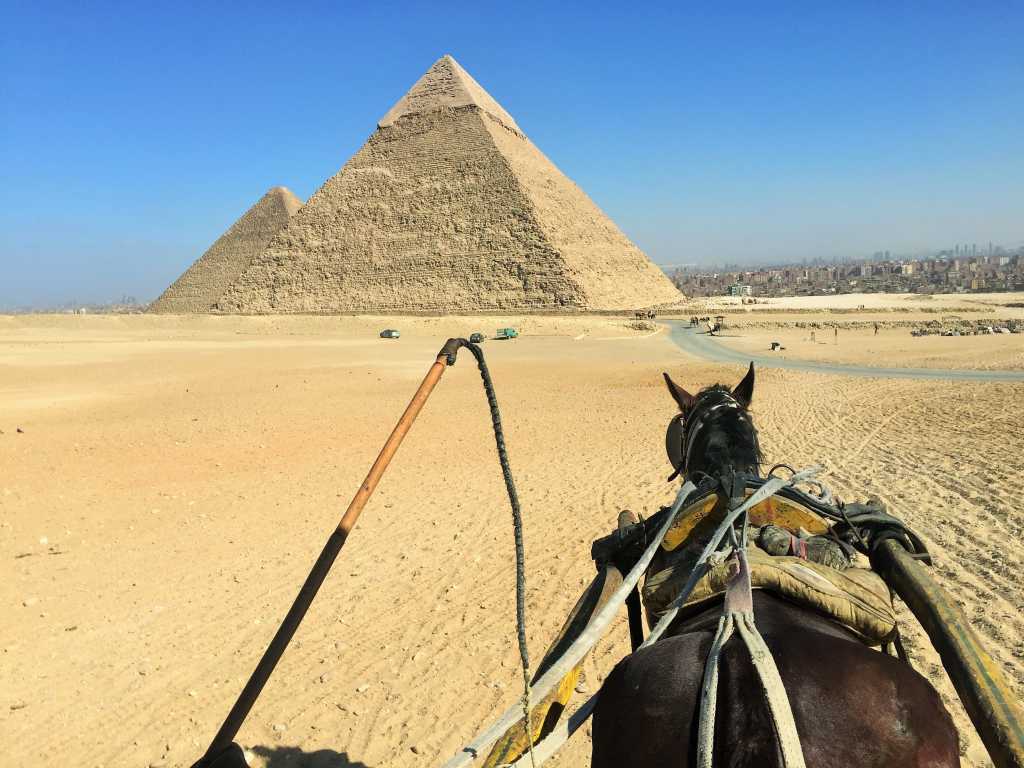 After the pyramids, I hailed  a taxi which brought me to the Giza metro station and took the train to the Sadat station in Cairo. I bought my train tickets and was instructed to step aside as the ticketing officer cannot speak English. He asked every passenger who was buying a ticket if they can speak English and many of them cannot,  until one university student came in and gladly answered he can. I told him my destination and without any shade of hesitation, he bought me a ticket at his expense. He was with a friend and both of them were heading to the same station which I should alight.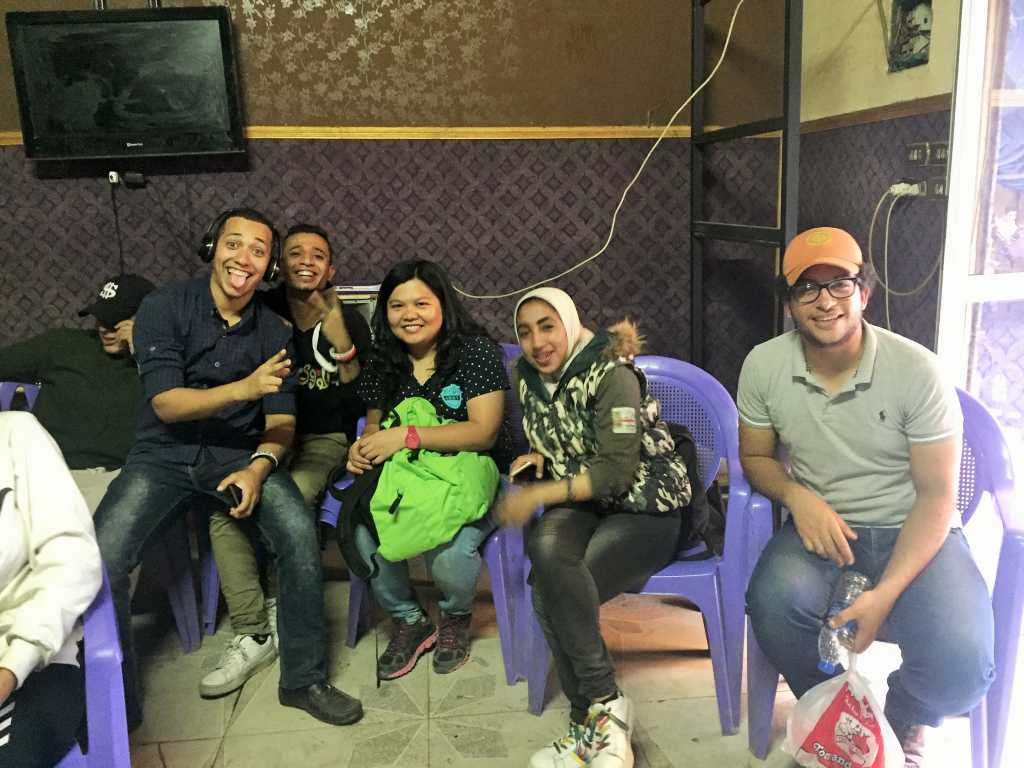 I asked them if I can buy them lunch as my thanksgiving for their help but it ended up that it was them who bought me Kushari, an Egyptian dish made of rice, macaroni and lentils, garnished with  dried tomato, crispy fried garlic and chickpeas. We went to a traditional restaurant where many of their friends were waiting for them. I saw a large crowd when I entered and they were all stunned to see a visitor like me. To my surprised, after the introduction I realized that all the chairs were already turned towards where I stood.  They welcomed me with much fun, although not all of them can express themselves in the language that I understand. We played games, talked about football and match, sing Arabic songs that I actually don't understood, though they always tried to translate it for me.  The whole afternoon was spent with them with much fun. Right then, I wished that I can speak Arabic and converse with them in their own language. Egyptians are known to be funny and I saw that even in their gestures.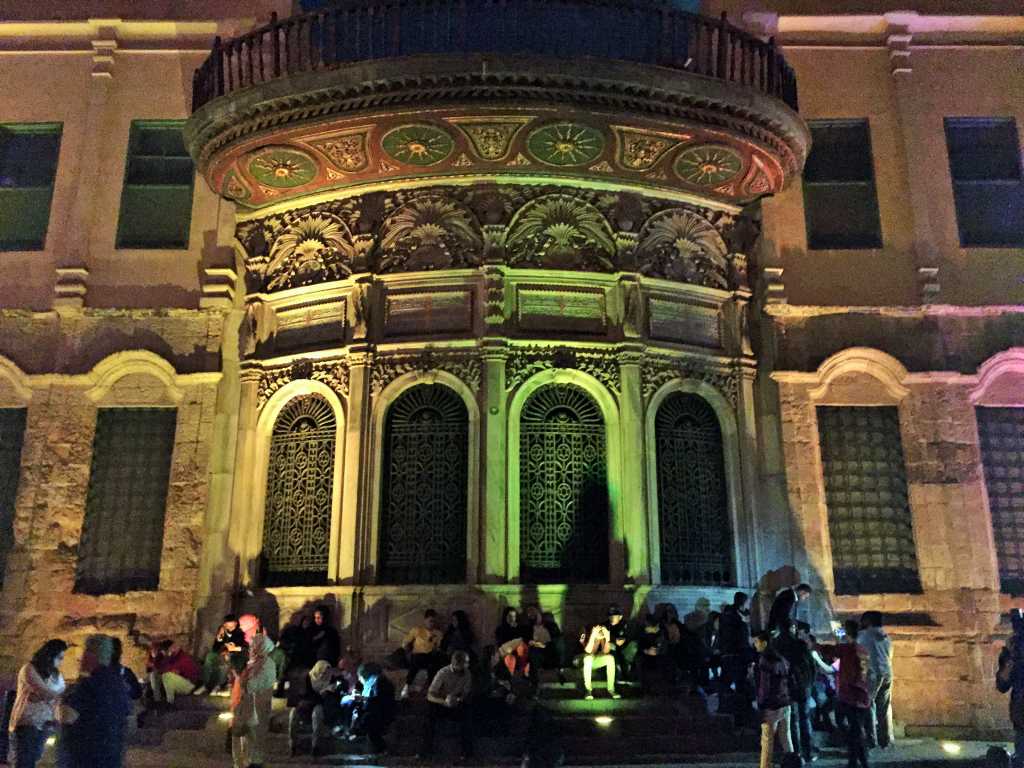 When night comes, I decided to leave and walked around Islamic Cairo where most of the mosques and other monuments are situated. Leaving saddened them and they asked me if I can come back the next day, the same place and time, but that's my flight back to Dubai. Walking through the streets felt like a time machine had brought me to a different era. The night was cold and silent and  all I heard were the singing of the youths around with their instruments.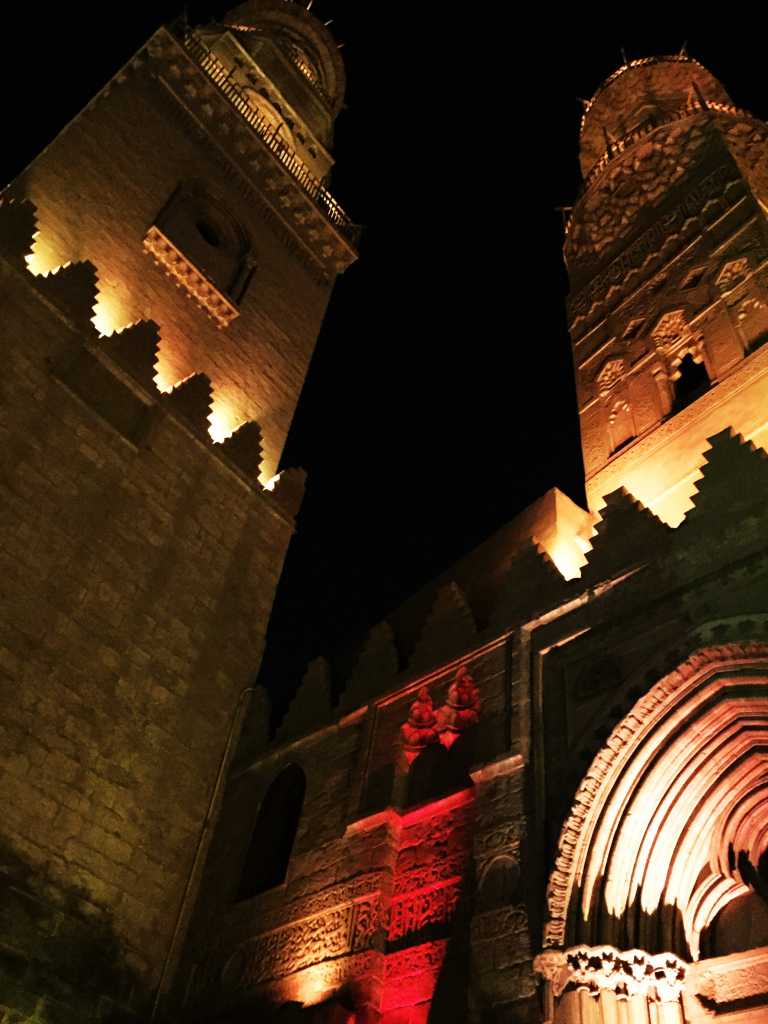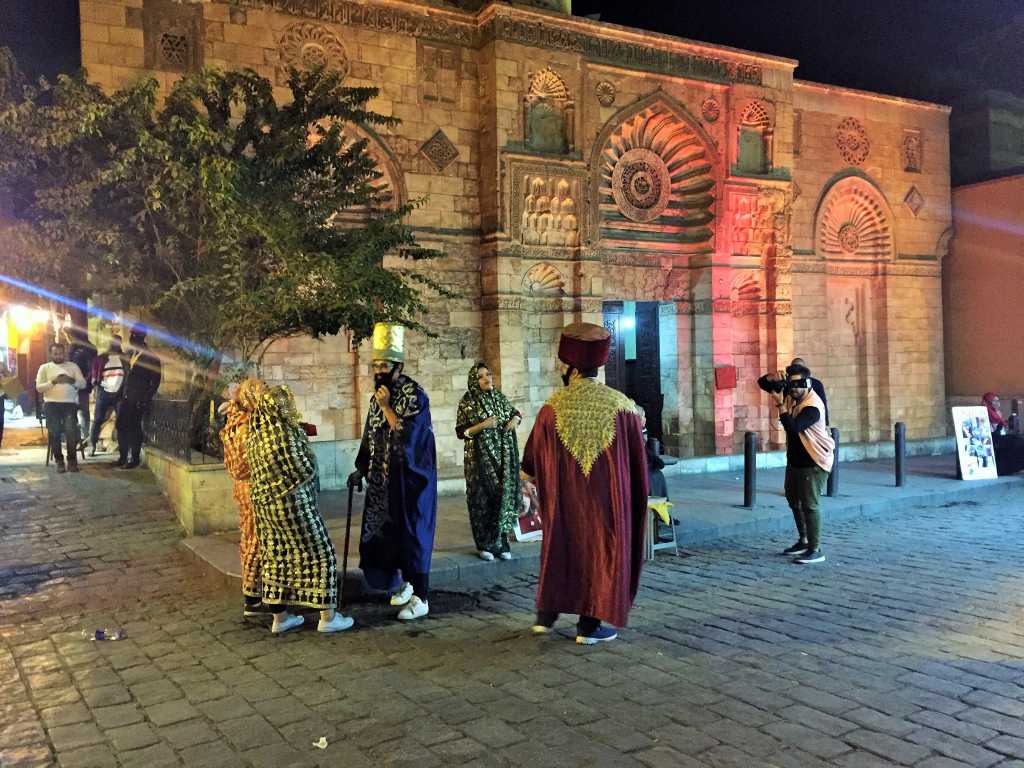 After my short walk, I looked for the location of the Al Tannuora Show which is scheduled every Saturday, Monday and Wednesday only. If I will not watch it that night, I won't be able to watch it anymore because of my schedule. I asked the stationed cops around the area and locals which were very accommodating, but no one knows,  maybe because, they did not understand what I am looking for. I used google maps and landmarks to locate it until finally I reached.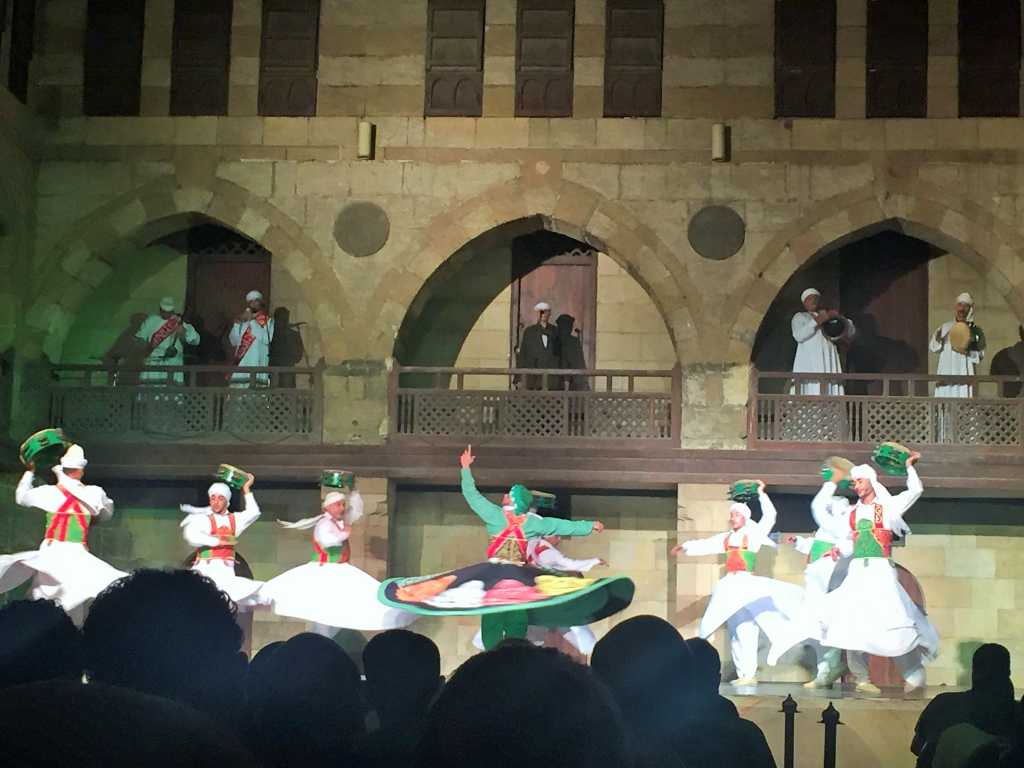 From the outside, the old theater looked like any ordinary building. Unless you will ask and read, you will not notice that it is the one that you are looking for. I paid the entrance fee of 30LE and entered.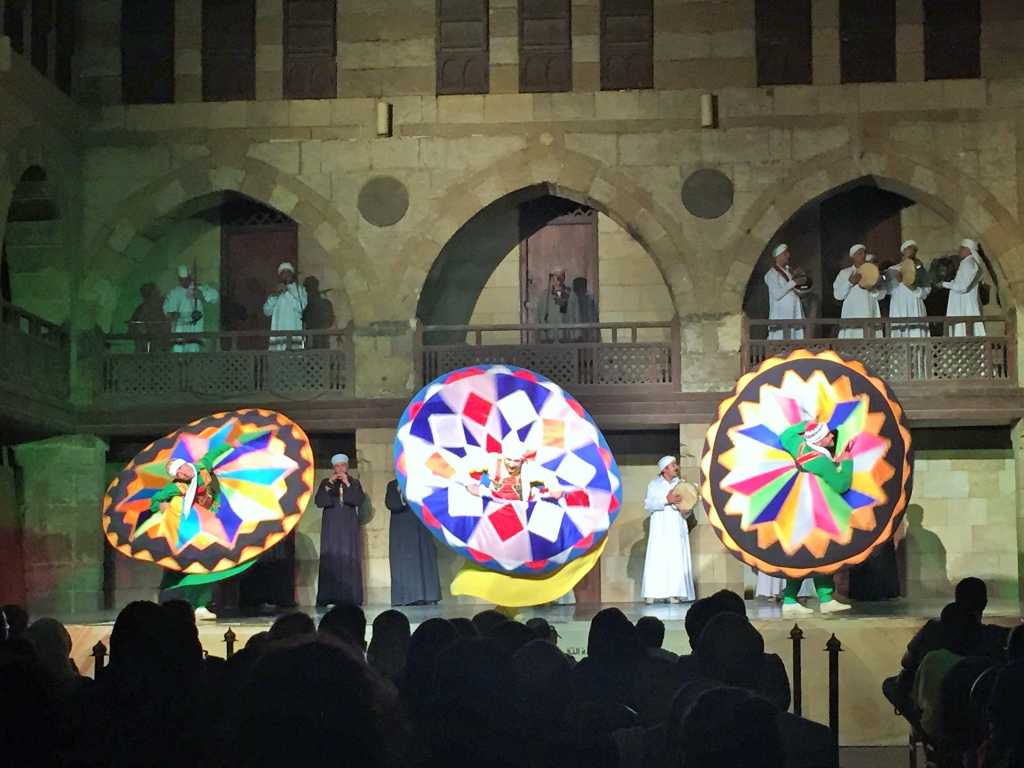 The show started with a performance collaborating all different instruments followed by  an individual performance using the performer's hand-held piece. Videos are not allowed, though I was able to take some before it was advised to the viewers. Quite unusual, but in the Arab World, performers are only men. Although I have seen better Tannuora dances in Dubai, the two-hour show was very entertaining as they as well showcased more to the Tannuora dance. The performance ended at almost 10:45 in the night and I took a taxi to my hotel.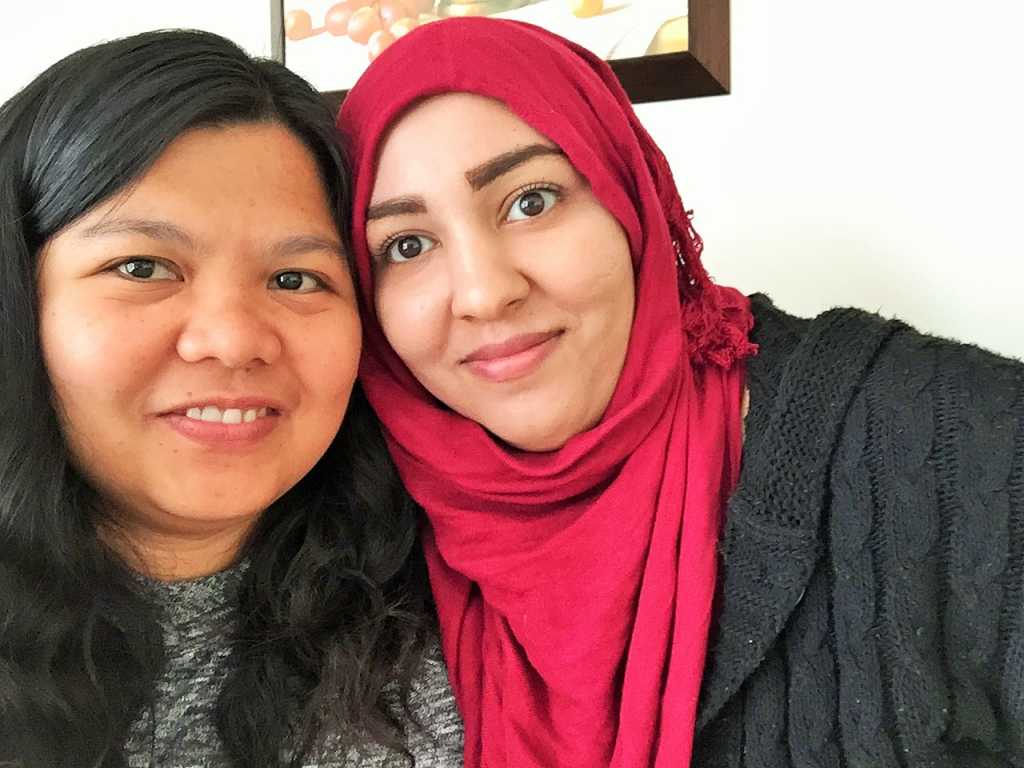 On my third day, I stayed in the lobby of the hotel after breakfast because I cannot connect to the internet from my room. Suddenly, a newscaster from Azwan who eventually became my friend was trying to converse with me. We shared life and enjoyed the short chit chat after food.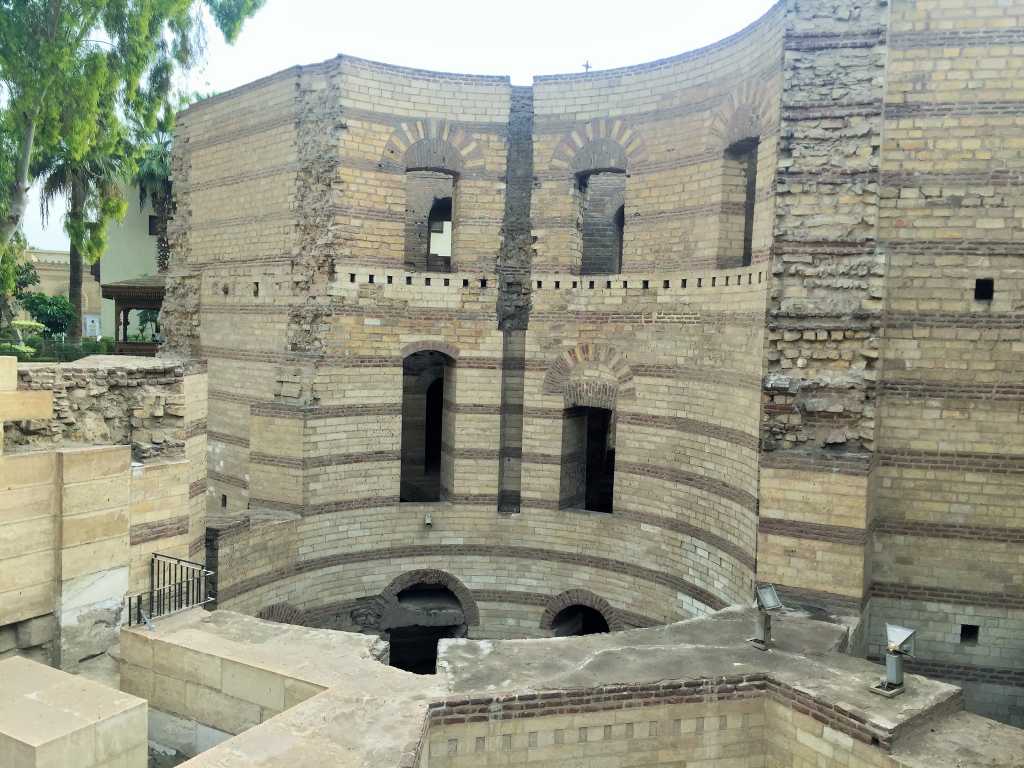 I then visited the Fortress of Babylon, which was built during the Roman Empire and is currently located in Coptic Cairo. Six Coptic churches, a convent and  Museum are built into or on its walls.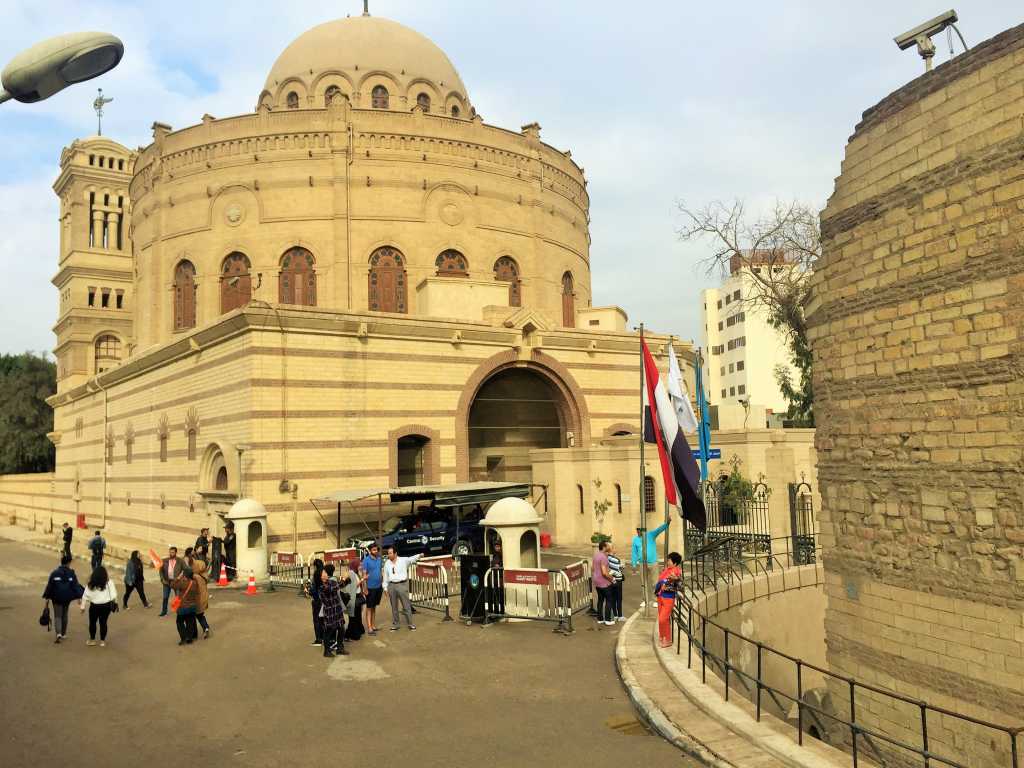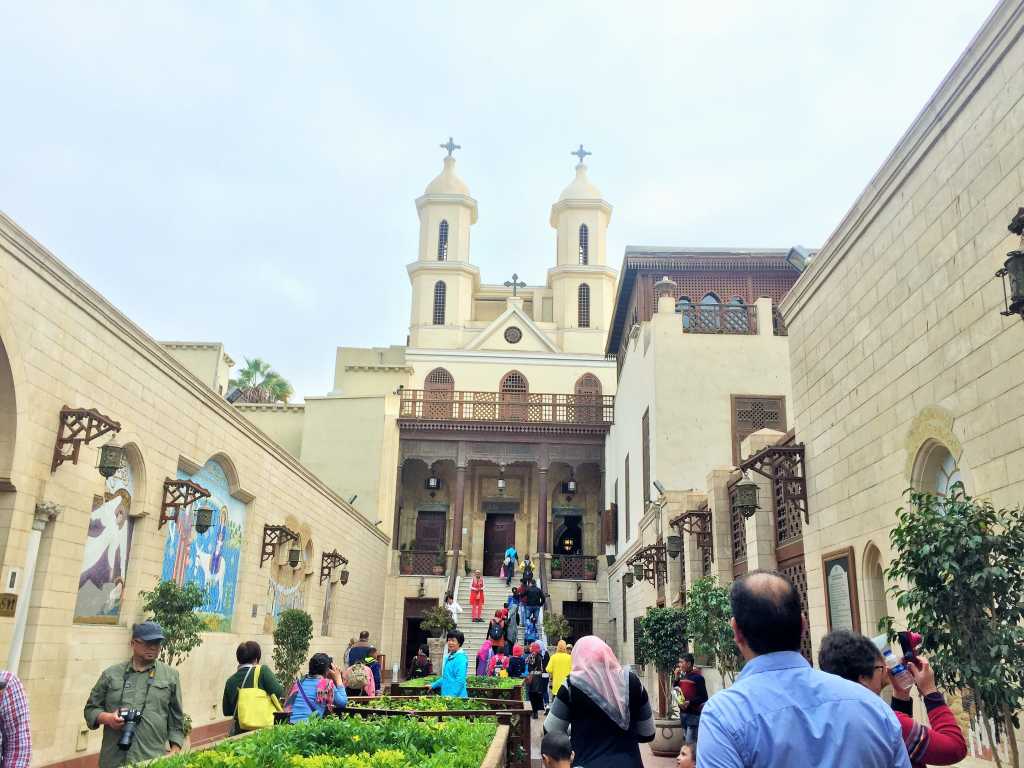 Saint Virgin Mary's Coptic Orthodox Church or famously known as the Hanging Church is situated next to the Babylon Fortress. Built in the late 4th century, this arch design church is now one of the oldest church in Cairo. Icons and images are many inside the church, including remains of different saints.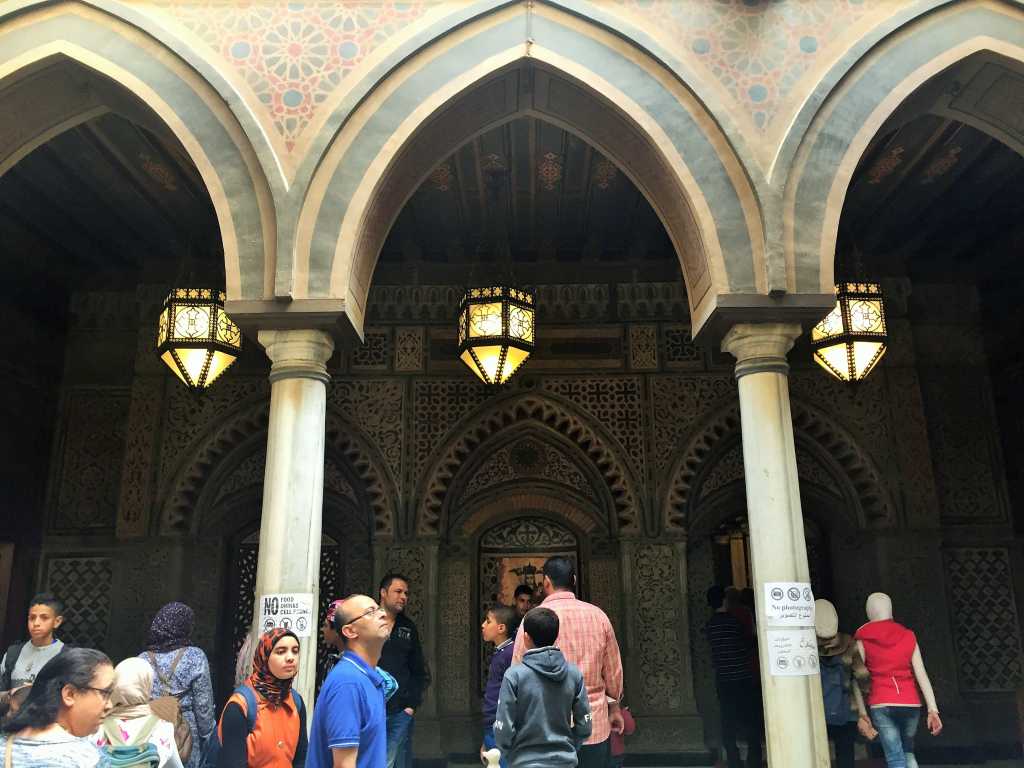 One of my favorites is Khan Al Khalili. I went here at different times and it's fascinating in both day and night. If you love to shop or would just love to see interesting things around, the main street of this souq and its narrow alley will make your eyes busy  as you trail around the shops and its various displays.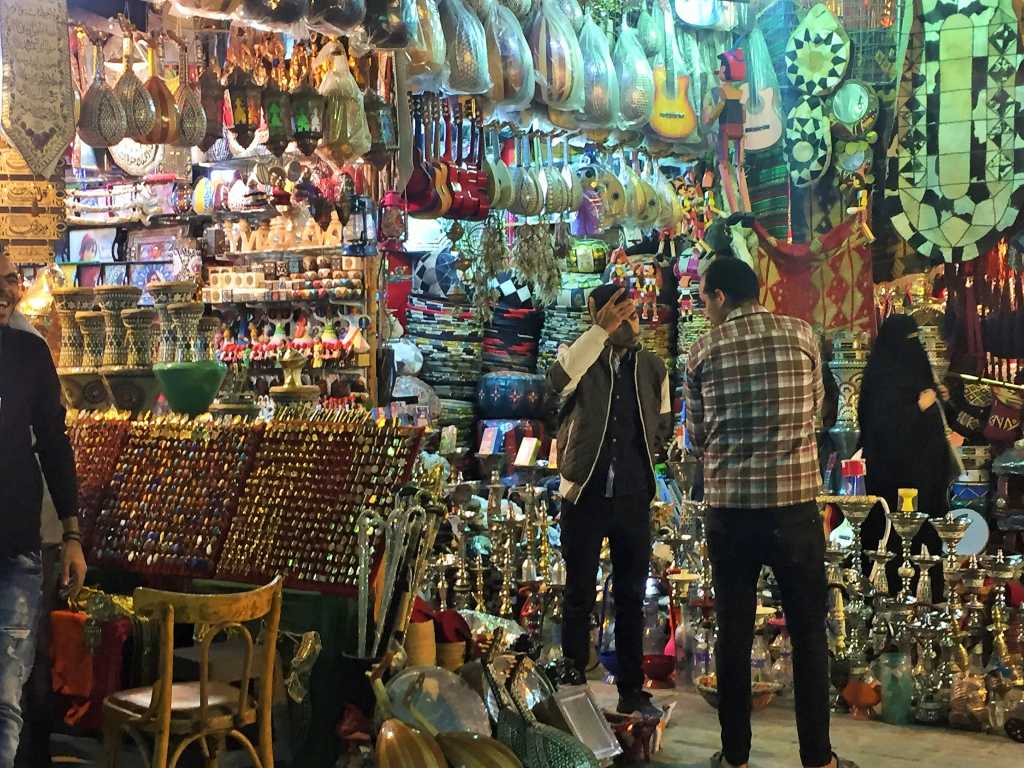 Thanks to the Nile river! It made Egypt's soil nourished making them one of the major exporters of fruits and vegetables around the gulf. Since I am at the origin, fruits should be cheap so I decided to go to a local market and get myself the fruits that I love. Sweet, tasty and cheap!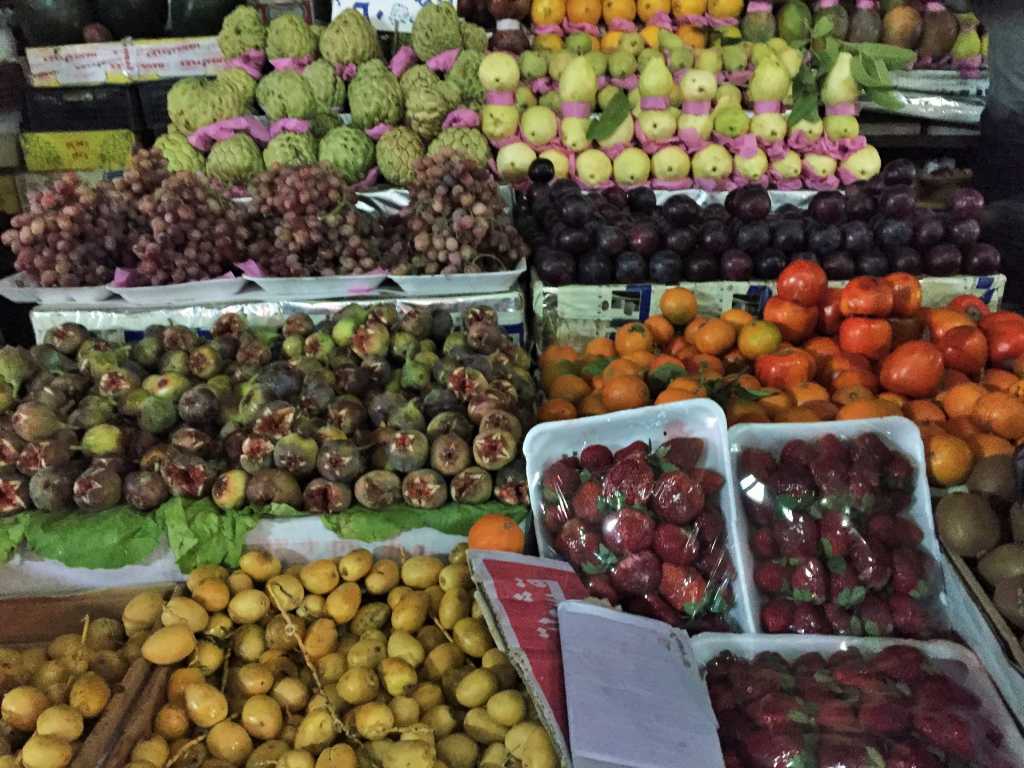 Many of the time, I passed by the famous Tahrir Square or known as Martyrs Square today. This is the very landmark where the revolution and protests across Egypt happened.  The big Egyptian flag stands still, waving in the air.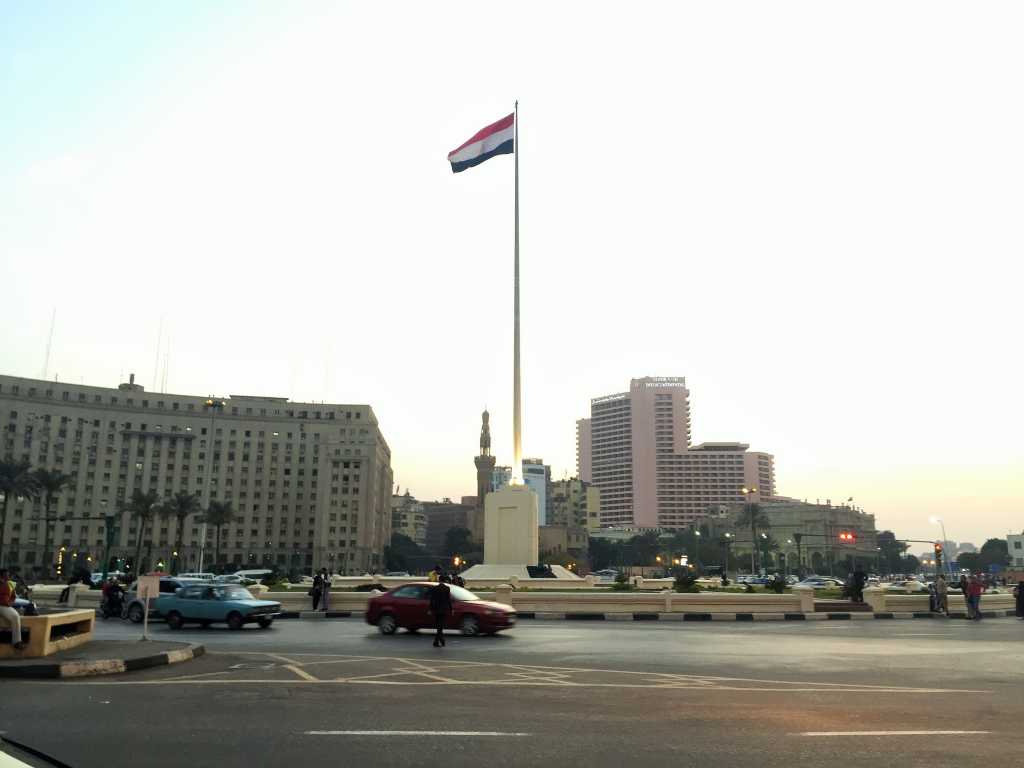 Cairo is one of the oldest city in the world and it is still visible in their infrastructure and streets. According to Nora, the university student who is very much willing to accompany me and show me more of Cairo, the government had really tried to preserve this part of the city.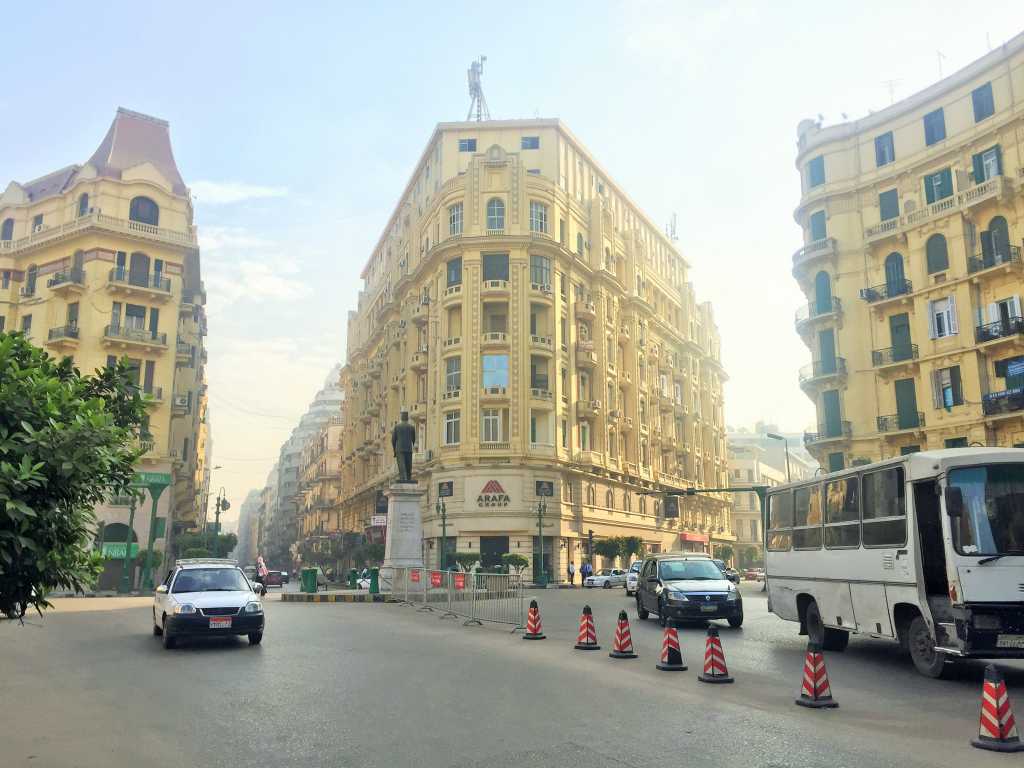 Ironically, the traffic in Cairo is really bad.  Rules are not properly imposed. People can park their cars next to another car at the side of the street, traffic lights within the city are not many and people don't respect them. Most importantly, not much of pedestrian is available, which means crossing the street means risking your life. It is dangerous, but you will be able to handle it on your second day.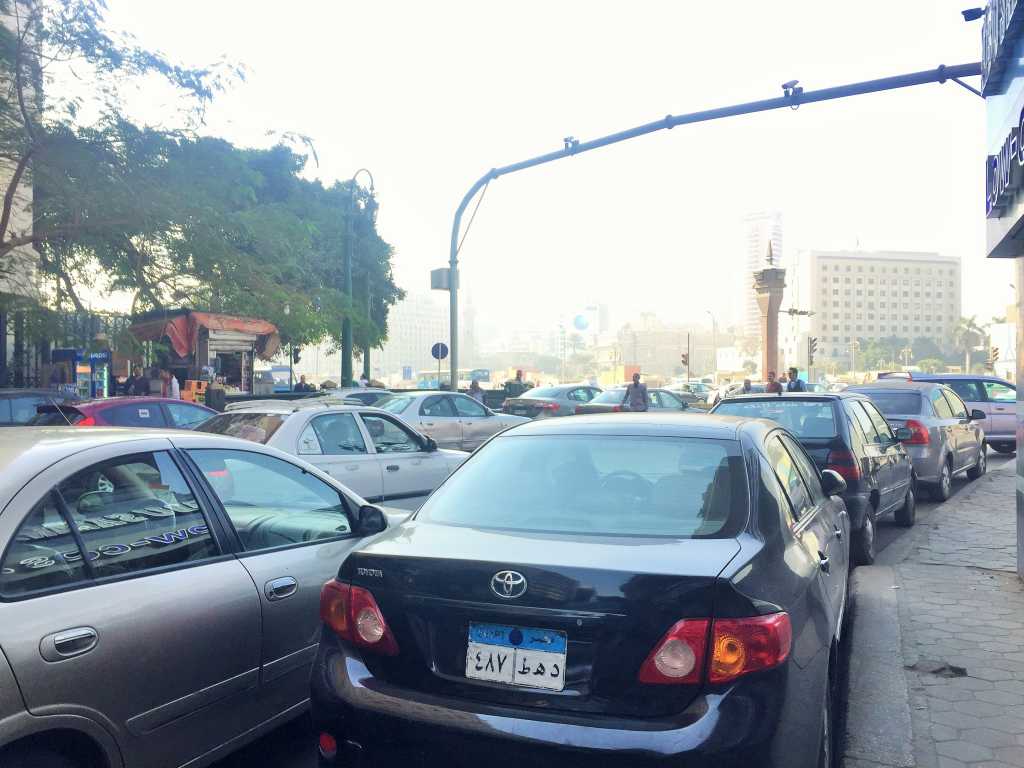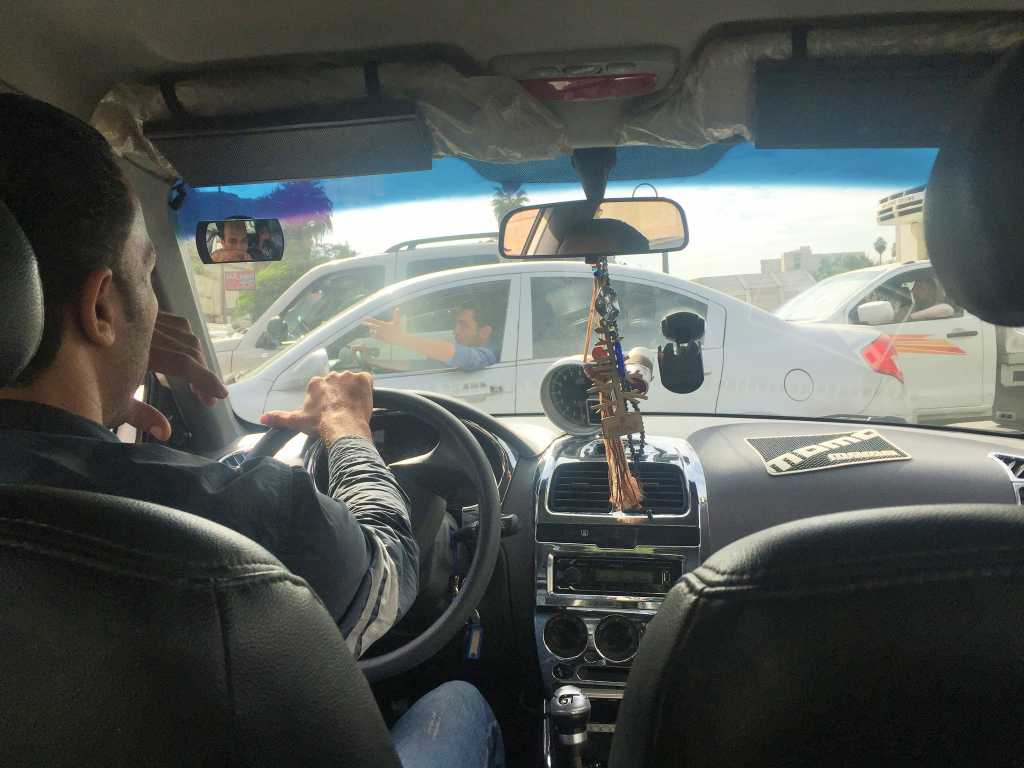 Many of Cairo's famous spots can be reached by train and bus. Although locals are not used to seeing tourist taking local transport, you will always be a subject to their eye as they cannot believe you are doing it. While others can be reached by taxi, you will only be charged 20-30LE as you bargain.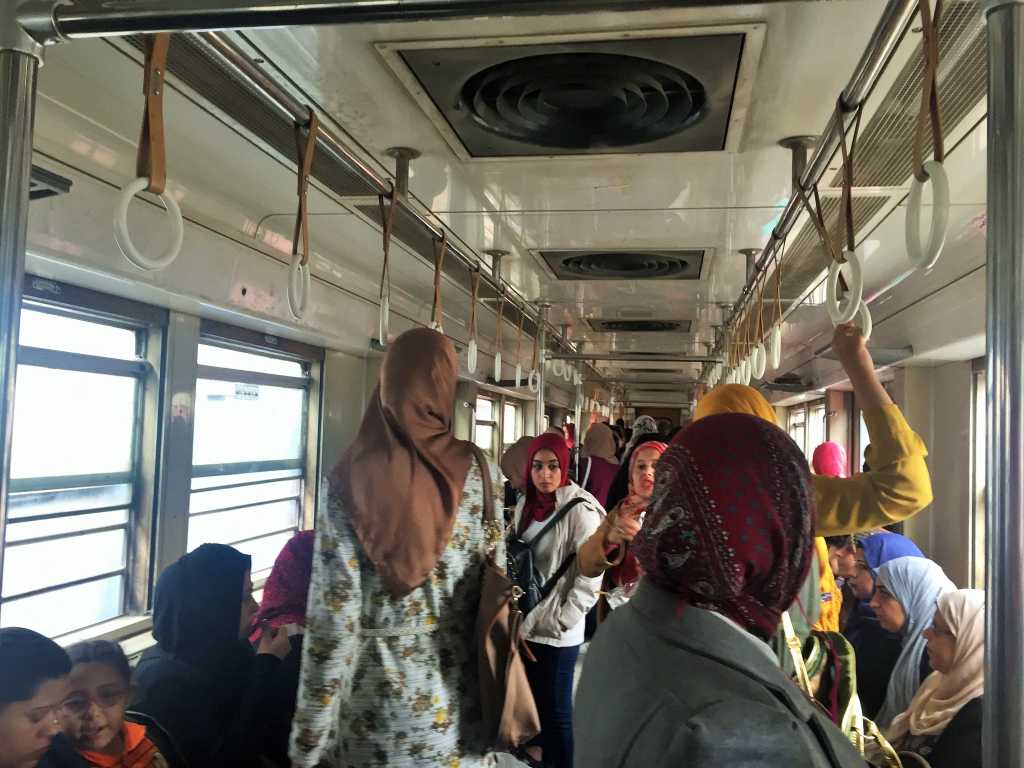 At seven that night, I took all my luggage and head to the airport. Tired, but filled with so many good things to ponder and remember, including people. I saw and experienced the jewel hidden inside the hearts of the Egyptians. Many don't like them because of their attitude, but as I always noticed, and it proved me right every time I visited nations, people are so different way back home. You will only understand them when you see and experience them in the  place where they don't build fence around them to protect themselves, when no self-banner is needed to be raised, when not a part of themselves owe an explanation to the world.
The last question that you may have in mind is, "Is Egypt Safe?". Well, it is. Cops are scattered around, but wherever you go, it is always a rule of the thumb to take extra care and precaution.