We took the first trip from Baguio at 06:30 in the morning and arrived Sagada at 12:00 in the afternoon. The 5-hour travel is panoramic and the sceneries will entertain you, but the landslide which is often that time, will keep you thrilled. Since we didn't make prior bookings on our accommodation, we still have to find a place to stay, but generally, it is not a problem when you reached there because hostels are many and easy to locate.
Because we don't want to waste the remaining hours of our first day, we went to the Tourist Information Center to register our names and check if we can still do things before night comes. So, we took the Eco Tour.
We meet the guide at the Information Center and started off our hiking trail at St. Mary's Church then we passed through the Calvary Hill cemetery, of which I didn't take photos :).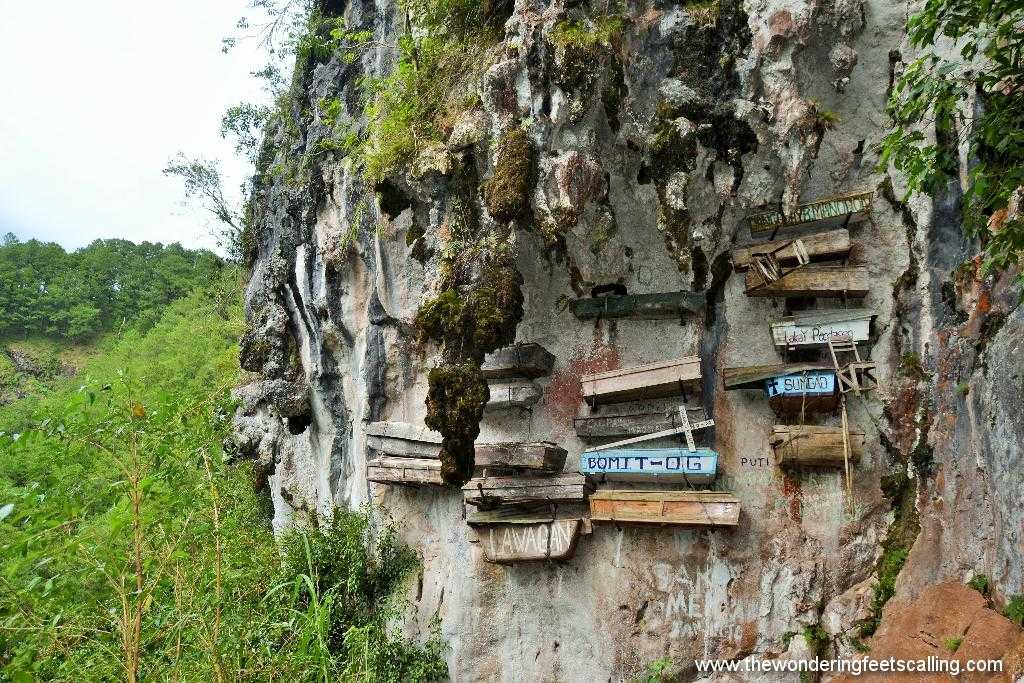 In 15 minutes, we reached the Eco Valley Hanging Coffins. Well, we didn't come to Sagada looking for the dead, but these places have become a part of their tourism destination because of its peculiarity. We asked our guide on how those coffins ended up on a cliff and he told us that only 90-years-old and above has the privileged to be there :). In the old times, before their death, they informed their families or friends on where they wanted their coffin to be found. So we asked him again because we saw small coffins with the thought that those were kids, but he told us that they were not kids. They were placed in fetal position that's why their coffins were small. It is believed that your position inside your mother's womb must be the same as when you died. Some of these coffins are there for more than 100 years and yet, we didn't notice any smell. Their ancestors had used plants to preserve the body and prevent it from spreading stinky smell. Who says only Egypt knows how to mummify when our ancestors did it as well?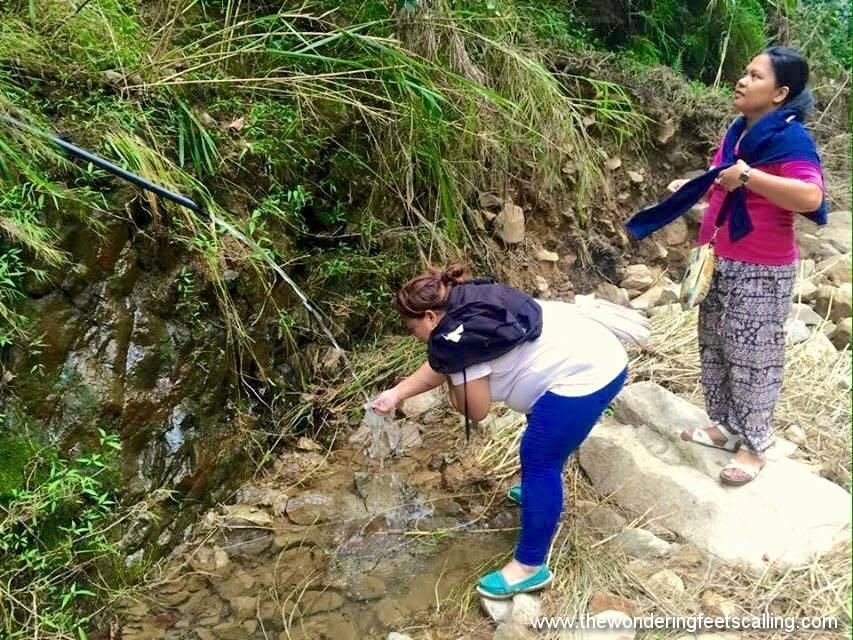 This is the original Nature's Spring! This water is from the mountain and it is widely used among residents. It is clean, clear and  most importantly ice cold. Hikers can refill their bottled water here  and continue their walk.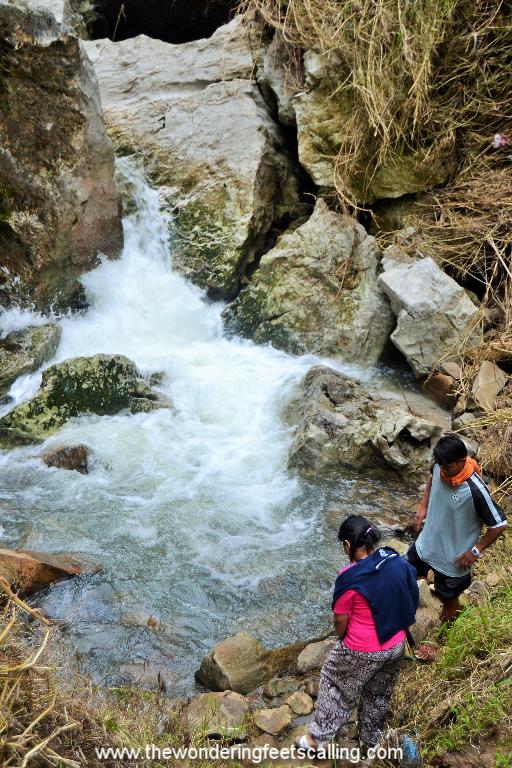 Refreshed to see water after the difficult trail! The alleys that we took before we saw this river was really very narrow, slippery, and muddy that the very thing that you should do is to be very careful with your steps, though throughout the journey, some streets  requires huge leap. In some areas, you can only grab a grass to hold from.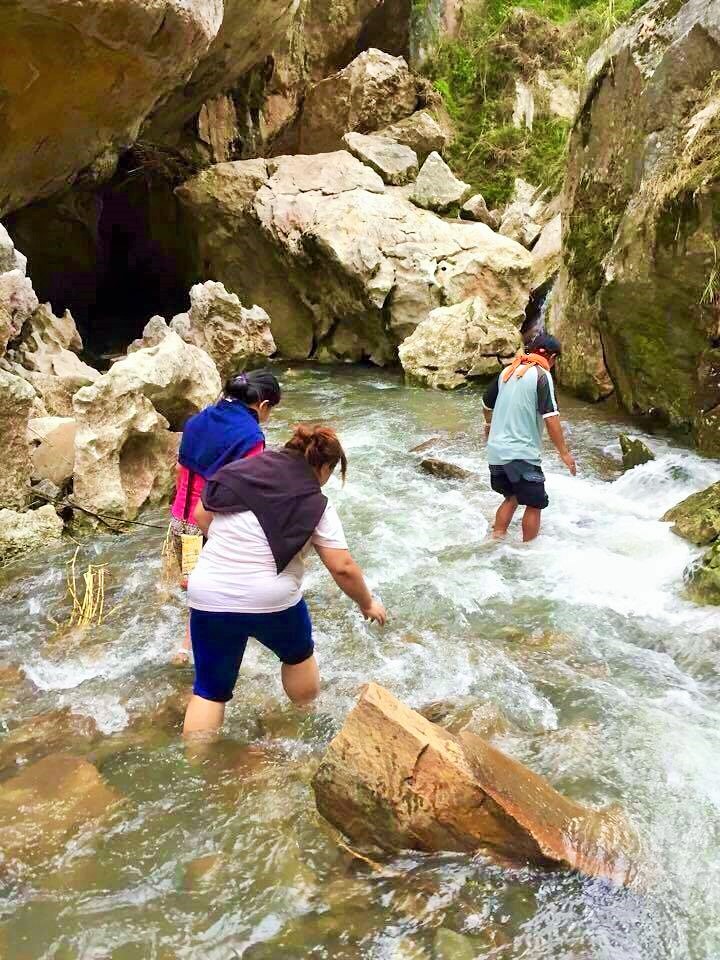 Though the current was strong, we have to cross the river and get ourselves to the other side. Our guide didn't give us a hand as we crossed, but he held Makoi in his turn, strange right?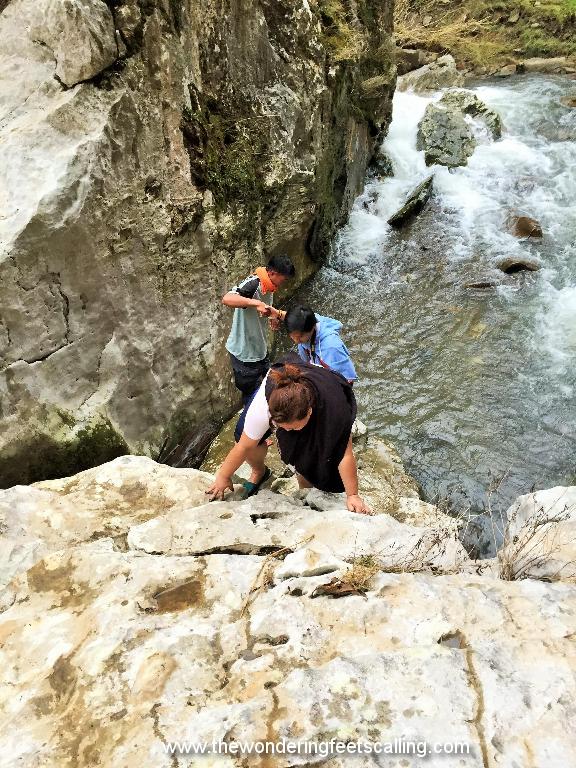 Not all that, we climbed rocks and passed the entrance of Sagada Underground River.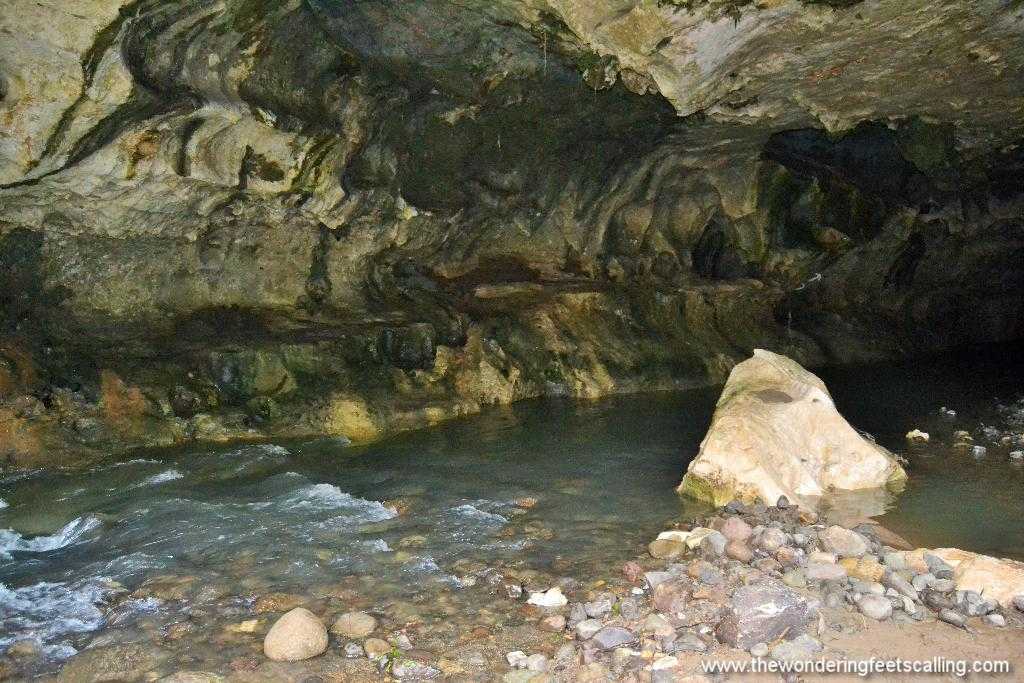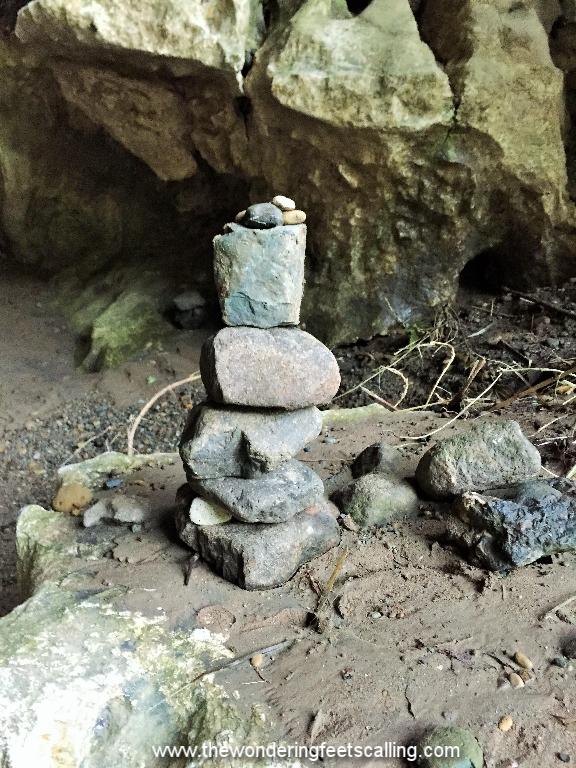 At the entrance of the underground river, you will see small rock formations which I thought to be trail signs, but our guide told us that kids did them to create formations and fun. Many of these were washed away when a flood came.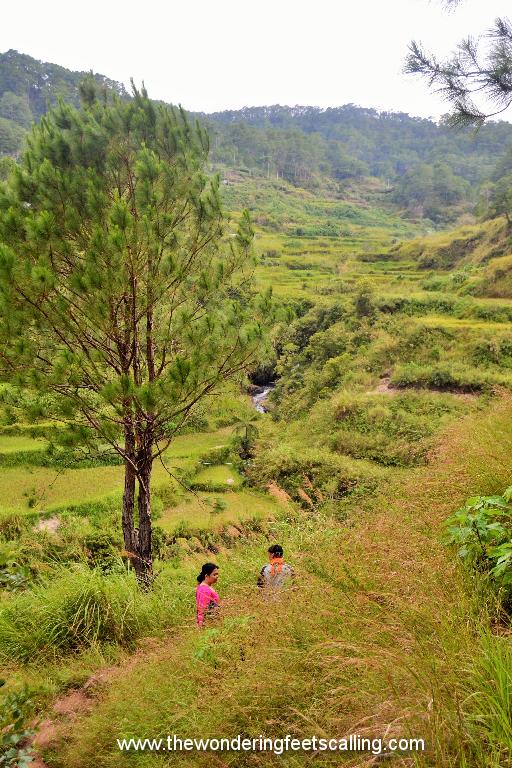 We walked through rice fields and terraces before reaching the Bukong Natural Swimming Pool.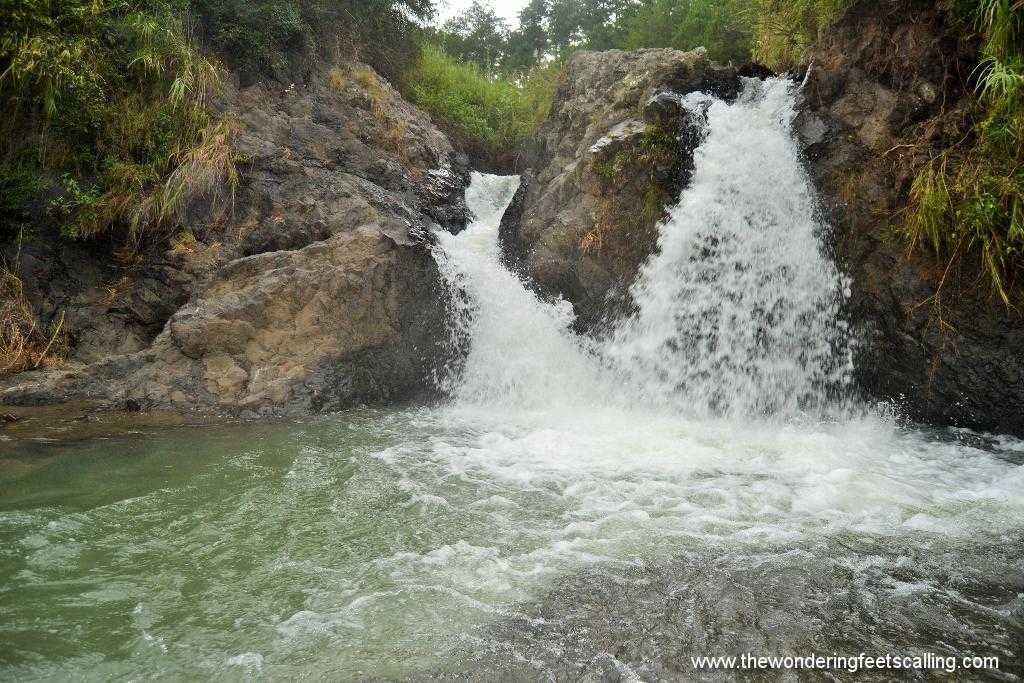 It is 11 feet in depth and if you can manage, you are free to swim.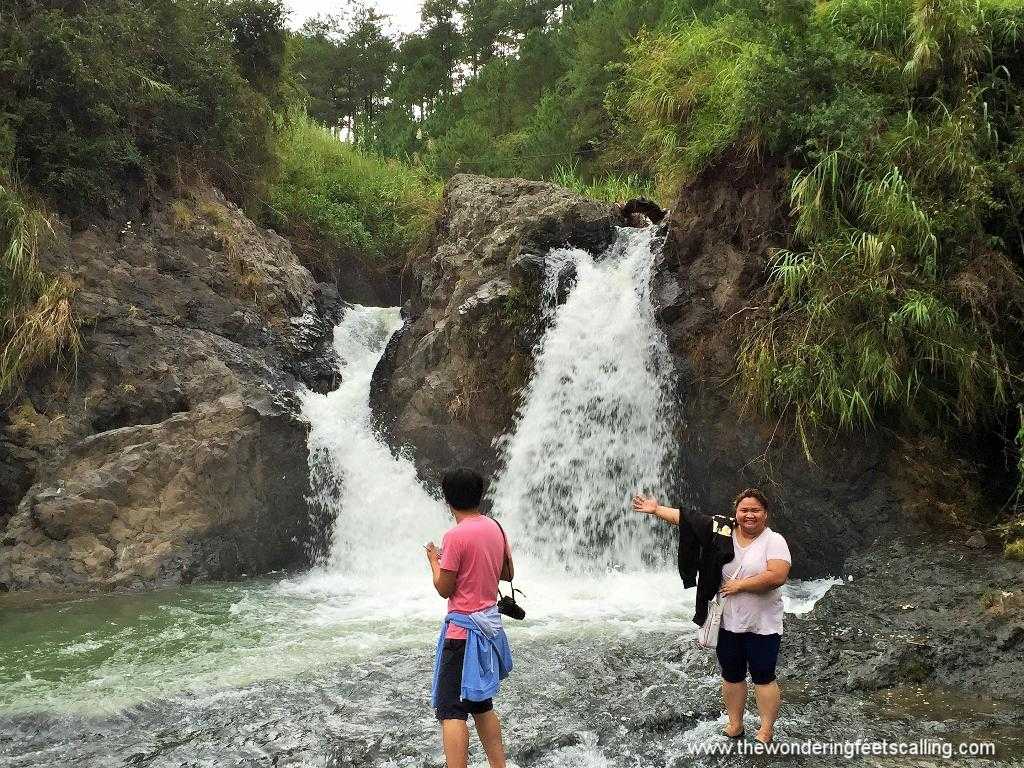 We stayed longer here as we marvelled on the coldness of water while we watched kids jump off the pool fearlessly.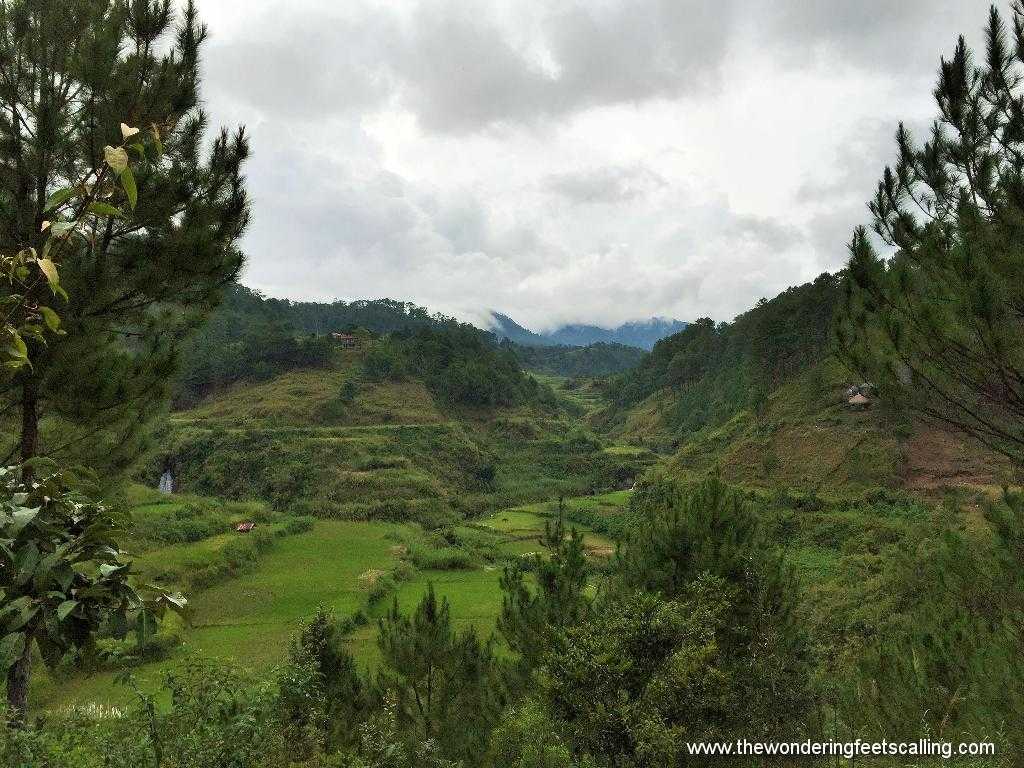 Thick cloud formations painted the sky and drizzles started again to pour. We walked fast to reach the center of the town and passed through Sagada Weaving very quickly. After all, we were not so interested in this.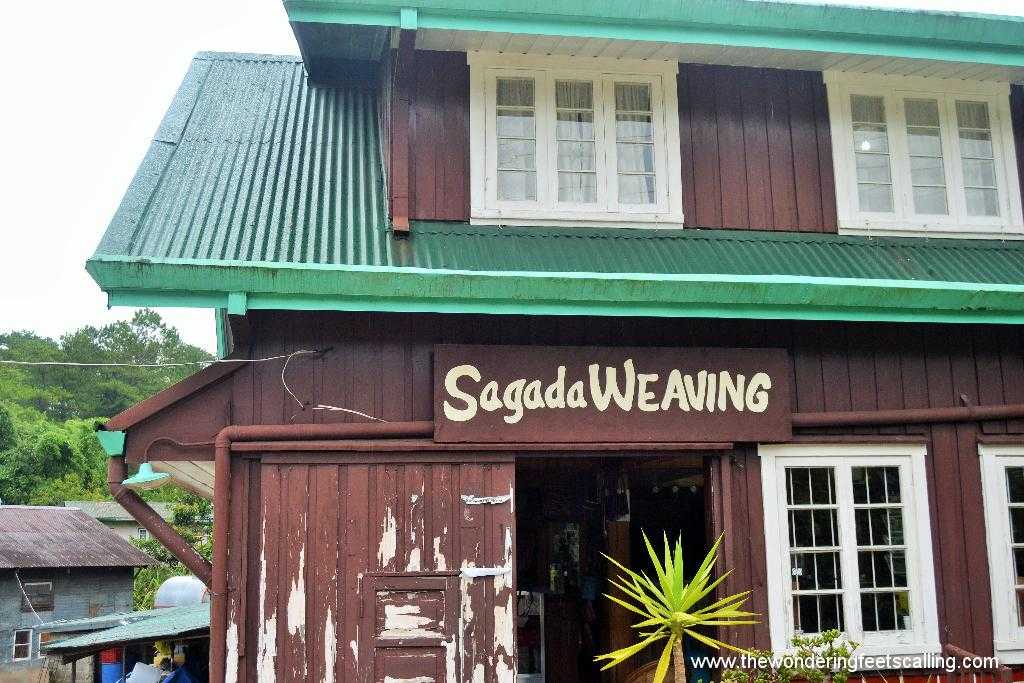 Noticed that houses in Sagada have double wall. They use wood inside and galvanized iron sheets outside to absorb heat. Naturally cold, the walling outside will keep them warm.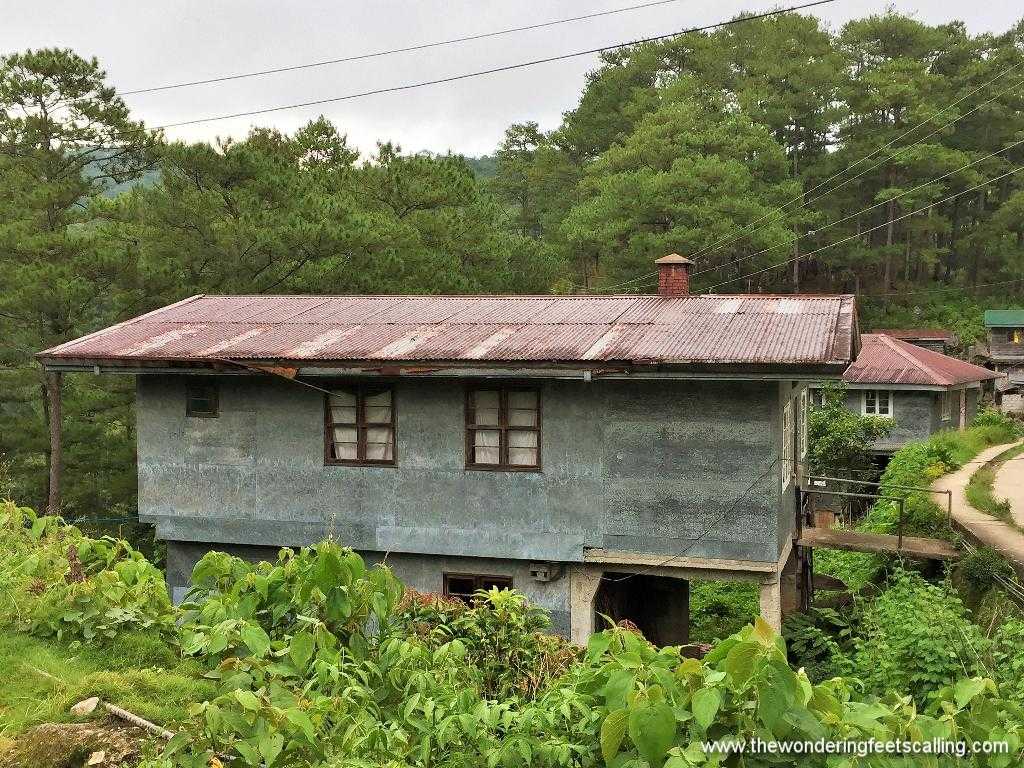 This trail is truly an adventure we take. Muddy shoes, wet clothes and empty bottled water are nothing compared to the fun and thrill. The gift of nature is breathtaking while our motions are breath catching. It made me remember on what our guide had told us about the origin of the idea that Sagada is a place for the broken hearted. It originated from a broken hearted Davaoena who came to Sagada in search of her healing. Hey, don't connect the arrow with me. I am from Davao but that's not me :). Actually, none among the three of us is broken hearted. Kidding aside, I told the guide that its true because when you do all these trek, you will for sure forget your broken heart and only feel your lungs expanding.
Sagada is definitely not only for the broken hearted. It is also for those who have  a heart that is filled with joy, a mind that appreciates wonder and a feet that has a calling to walk through and unveil its charm.
Reminder:
Registration is a municipal ordinance and must be adhered by the visitors. A tour guide is required all the time. Rates are fixed and must be settled at the Information Center only unless otherwise directed by the staff.
Choose your adventure and Have Fun!