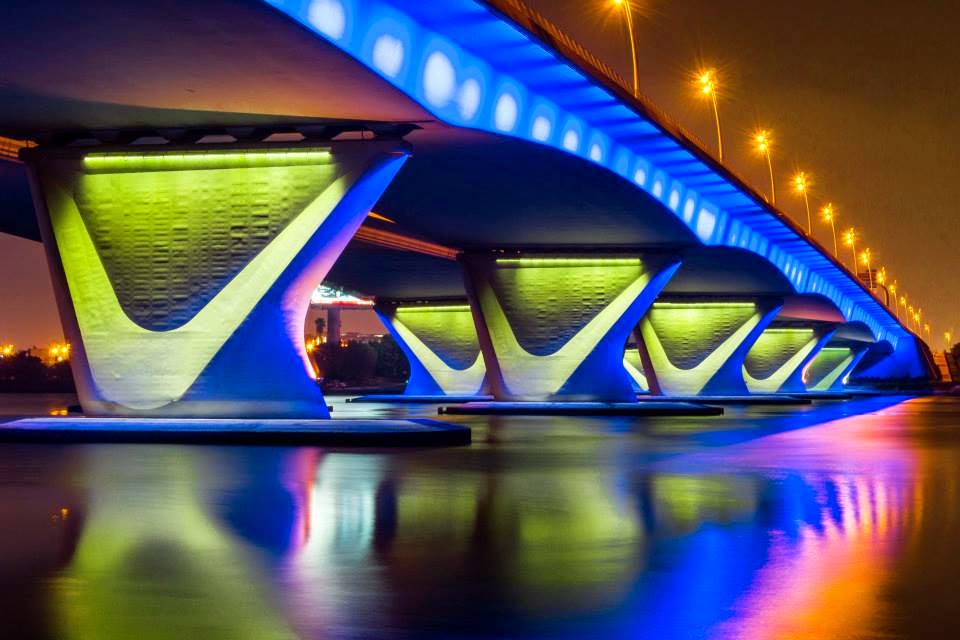 Garhoud Bridge Dubai UAE.  Photo Credits to My Brother, Makoi.
Last year when I came back in Dubai after my one month vacation in the Philippines, an Emirati woman who I used to work with told me, " You Light Dubai."  According to her,  it is their way of saying "welcome back". Hearing that from a local really makes me flattered and that phrase especially has overwhelmed me immensely.  
When I reached home, it came back to my senses and the number of people all over Dubai had me pondered.  Back in 2013, Dubai's population reached 2.13 Million but barely 10-15% are covered by locals and the rest are expats. 
Imagine if every single expat would light Dubai, were you able to imagine how illuminated Dubai is? Dubai's aerial view at night is so lovely. Lights are strategically arranged  and has captured  hearts and souls.  The yellowish lights are seemingly like gold that has flooded the city streets. Those  are just the street lights and regardless of their numbers, expats are still numerous if I were to compare. Picture in your mind how innumerable are the lights that each expat would cause, but how could we become a light by the way? We cannot just literally bring  a torch  or a flashlight to be one.
Dubai is a city which most expats has considered a second home. Each of us can give light. The bible says, You are the light of the world. A town built on a hill cannot be hidden.

 

Neither do people light a lamp and put it under a bowl. Instead they put it on its stand, and it gives light to everyone in the house.

 

In the same way, let your light shine before others, that they may see your good deeds and glorify your Father in heaven (Matthew 5:14-16).  You are already plugged in  to bring forth light.  Within you is a light which source never runs out.  That light could help others find their way in the dark. That simple act of kindness, a silent prayer, an affirmation , gestures of thoughtfulness or a cheer can brighten one dark day. Around us are people who may be in the dark. They could be our family, our friends, our office mates, schoolmates, neighbors or flat mates. God didn't just put you there to be wall flowers or mere passers-by in the lives of these people. Why don't we dig deeper and turn  our light into the next level of brightness? We have to remember that our light will appear radiantly and distinctively in the dark and not in broad daylight.
One of the preaching says that the cross has two directions that points out  clearly about our relationship, sideward and upward. Sideward directs us to the people around us. These are the very people who need us and we too need. The upward direction leads us to our Father in heaven. These are the two directions that lead to everlasting,  and  if we will only find it in our heart to give our light, many won't get lost.
Allow yourself to be the bearer of light and continue to light up Dubai. Wouldn't you be flattered if God himself say "You Light Dubai"?   Your time in here matters and  apparently, your light counts.  Let darkness vanish into thin air because of your presence.There are two ways of spreading light: to be the candle or the mirror that reflects it. – Edith WhartonSPREAD YOUR LIGHT TODAY! ENTI MENAWAR DUBAI 🙂